"As a dog returneth to his vomit, so a fool returneth to his folly"
Meet Whitney Veon Tritch, shameless military impostor. For quite a while, Tritch has been hiding out on 160 meters at 1.9 mHz, pretending to be a law abiding ham operator. Whitney tells people he's a combat disabled veteran. More on that below. Whitney stands accused, by a growing number of people, of jamming 75, 40, and 20 meters. You can find out more about Whitney below, but on February 4th, 2016, Whitney returned to his master, Karol Madera, VE7KFM, who told Tritch, "We're long overdue for a fatality" and then Madera named two amateurs, telling Tritch, "They are right at the top of the list, Whitney...." Tritch acknowledged in the affirmative; much as Brandon Duke did, just before he attempted to murder a police officer in Longmont, Colorado; as Todd Daugherty did, just before he threatened to blow up Consolidated Communications, in Taylorville, IL, and before Daugherty threatened to murder two children as they played soccer; as Michael DeWitt Adams did, just before he tried to arrange a sniper attack against a Florida police detective; as David J. Tolassi did, before he beat his wife in a alcohol and drug induced stupor; before he threatened to shoot a federal agent in the head; before he threatened to blow up the Dayton Hamvention with a fertilizer bomb. And so it goes, as Karol Madera has continuously attempted and sometimes succeeded, in finding mentally ill amateur operators to perpetrate hoaxes and violence against police, employees of federal agencies, the FBI, RCMP, and other amateurs, for at least the past 16 years.

Listen as Madera tells Tritch, "a fatality is long overdue." Congress, Amateurs, and half the general public, still wonder why the FCC appears to be so confused.
Whitney Tritch, Arrested for Fraud in Unionville, VA
Whitney Veon Tritch is a habitual liar who calls himself a friend of Karol Madera. Since at least 2006, Whitney Tritch has submitted false reports to the FCC. Tritch's fraudulent submissions, on behalf of Madera, were summarily rejected by the FCC due to Tritch's history of lying and fraud.
Whitney Veon Tritch used false and fraudulent credentials to break into qrz.com. Tritch used the callsign of another man in order to post defamation authored by Karol Madera. At the time, Tritch was banned from the site for this reason. Without the slightest regard for the truth, Tritch has continuously parroted Karol Madera's defamation. Whitney can often be found lying and crying in the middle of 160 meters where he hides from hams who know the truth.
In May, 2008, Whitney Veon Tritch wrote an email to Daniel Jeswald, describing himself as a "combat wounded veteran" (false) and Tritch previously told Riley Hollingsworth of the FCC, that he had been shot in the head while on submarine duty (false) whilst performing a "Top Secret Mission" for the government (false). This fantastic tale is worthy of re-telling, if only to establish the factual basis for calling Whitney Veon Tritch a military impostor, a liar, and a fraud.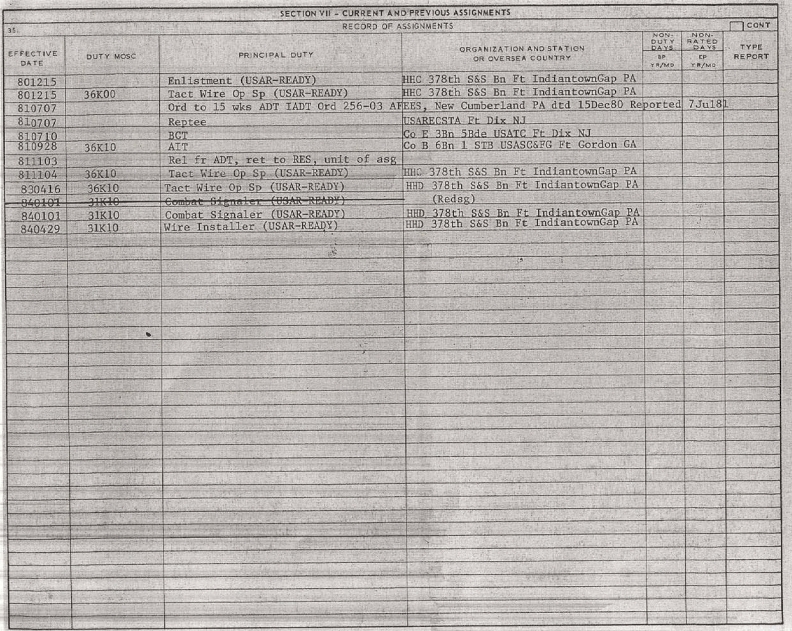 In the email Whitney Tritch sent to Jeswald, he wrote, "I enlisted in the 80's and went west, way west. I jumped out of many different aircraft 167 times and have 32 1/2 kills (the 1/2 is an assist) on active duty. I have saved more lives than I can honestly remember."
Tritch's military record above, and cover sheet here, show his postings as a wire-installer and signaler at Fort Indiantown Gap, PA; Fort Dix, NJ, and; Ft. Gordon, GA. These records very clearly refute Tritch's claims of airborne combat prowess, snorkling, jumping out of the screen door of the G.W. Carver submarine, etc., etc.
Tritch lied to Jeswald, exactly as he lied in order to obtain fraudulent access to the qrz.com account of an ill and elderly man, exactly as he lied to the FCC, exactly as he lied to the webmaster of the G.W. Carver website to get himself listed as a submariner.
Whitney Veon Tritch is a habitual liar - He's never killed anyone, in combat or otherwise. Tritch was never in the Navy, he never jumped out of any aircraft in the military, and he was never aboard the submarine G.W. Carver as a crew member, as his fraudulent listing on their website once claimed. In the summer of 2011, a bona fide current member of the military exposed Tritch's lie, precipitating the removal of Tritch's fraudulent listing. Note that Whitney Tritch's name was removed from association with the SSBN G.W. Carver thanks to an organization of veteran's opposed to military fraud.
In Tritch's email to Dan Jeswald (an actual combat veteran of the Viet Nam era) Tritch told Jeswald, "I went to combat as a civilian and have 2 kills and a few saved lives as well as a piece of shrapnel that was removed from my leg. I am combat wounded from the military and as a civilian!" These claims are transparent lies and prima facie evidence of Tritch's fraud.
Tritch went on to tell Jeswald he had a purpose for fraudulently stealing the callsign of an ill and elderly amateur operator (Bob Cheek, W3VT) and illegally breaking into a password protected computer system: "I, as any good soldier would do, had a plan/purpose for jacking that call. The goals and objectives were met with outstanding results!"
In other words, like a true sociopath, Tritch rationalized identity theft, fraud, defamation, and lies, by attempting to justify his actions as somehow contributing to the greater good.
Although he was not prosecuted, Tritch violated TITLE 18, PART I, CHAPTER 47, 1030(a)(6)(A): "Fraud and related activity in connection with computers" when he broke into the qrz.com website in 2007, under false pretenses, stealing Bob Cheek's identity, in order to post harmful defamation.
Not only did Tritch steal Robert Cheek's identity in 2007, he then had the unmitigated gall to try to take the man's FCC callsign after his death. Tritch filed a Petition for Reconsideration with the FCC when his request for the man's callsign was denied. The original FCC link to that document is here.
Whitney Tritch, like Mark Morgan, Karol Madera, and Todd Daugherty, and a few others, is simply a liar and a fraud, a delusional oddball who has engaged in criminal behavior in order to further the bizarre goals and objectives promoted by Karol Madera of Saanich, British Columbia.
Whitney Tritch can be reached for comment at: Whitney V. Tritch, 26442 Indian Trace Trail, Unionville, VA 22567. Home Phone: (540) 854-8636 and Cell Phone: (540) 219-7988