Who is Todd E. Daugherty, N9OGL?
Welcome Readers of Taylorville Daily News
The following links demonstrate Todd Daugherty's long history of threats and the ongoing need for civil or criminal intervention, whether via jail time or mental health treatment. Todd Daugherty has a decade plus history of Internet facilitated threats, harassment, and defamation. He was arrested in June, 2015, for a criminal felony described as 'threatening a public official'. He was also arrested for a criminal felony in January, 2010, described as 'threatening to blow up Consolidated Communications' in Taylorville, IL.
Daugherty was also convicted of 'harassment by communications', but he violated his probation, and was sentenced to home confinement after failing to adhere to the terms of his probation. The FCC has not renewed Daugherty's amateur license, following his threats and promises to blow up Consolidated Communications; hire a hitman; shoot children in the head and; a variety of other threats too numerous to mention.
Daugherty is widely known as 'Toad the Pedo' because of his affiliation with known pedophiles, including child-luring septuagenarians, and his love of sexualized underage animated characters, and his infamous written nocturnal fantasies involving tumescent ten year old transsexual boys.
In this email chain, the FCC Special Counsel for Enforcement discusses Todd Daugherty's threats to blow up houses and to murder children. Todd Daugherty sent the special counsel an email where he threatened to shoot two young children in the head as they played soccer and to blow up the houses of two other men. Daugherty sent this email to the FCC and to his close friend and mentor, Karol Florian Madera, VE7KFM, in Canada, who styles himself "Al Qaida Northern Command."
Naturally, due to Daugherty's close relationship with Karol Madera, who calls himself 'al Qaida Northern Command', the FBI became involved. At the same time, Daugherty was in court for having threatened to blow up Consolidated Communications in Taylorville, Illinois. Former Christian County prosecutor Tom Finks reduced Daugherty's charges in a plea deal, from a felony, to a misdemeanor for harassment, in exchange for Daugherty's guilty plea. Daugherty was charged with a felony for the second time after he posted a picture of his chief of police in crosshairs, on his blog, which is infamous for its pedophilia, anti-American sentiment, and threats.
Karol Madera has several friends like Todd Daugherty. Madera is a known thief, who stole copyrighted materials from several websites, hosting them in Canada, forcing complainants to take legal action to have his website removed. In the process, the company decided to remove all of their personal pages, due to potential liability issues. Another violently mentally ill individual, closely associated with Karol Madera is Brandon Duke, a man who was sentenced to 55 years in prison for the attempted murder of a policeman.
Unfortunately, Madera harvests, indoctrinates, and then repeatedly counsels his mentally ill friends to shoot Americans (especially police) at every opportunity. Todd Daugherty is just one, in a long line of confused Americans, who have come under the influence of "Al Qaida Northern Command" aka Karol Madera, who has been described as having a kind of charisma, not unlike Jim Jones, the unbalanced preacher who forced his flock to drink cyanide laced Kool-Aid.
Todd Daugherty solicited the murder of an amateur operator; threatened a 10 year old boy, members of the FBI, the Taylorville police Chief, and; the Special Counsel for Radio Enforcement at the FCC.
This recording is typical of Daugherty's radio operation.
Todd Daugherty Sends Greetings To Police Chief
June 23, 2015
46 year-old Todd Daugherty of Taylorville was arrested Monday for allegedly posting a picture of Taylorville Police Chief, Dave Herpstreith with an image of a target on his face. Daugherty is charged with threatening a public official and aggravated assault. If convicted, Daugherty could face two to five years in prison, one year of parole and thirty months of probation. Assistant State's Attorney, Brian Bach, set bond at $30,000. Daugherty must have no contact with the alleged victim and no access to the Internet. Public Defender, Greg Grigsby was appointed to represent Daugherty. A trial date has been set for June 25, 2015 at 10:00 a.m. at the Christian County Courthouse.
For reference, the image and text Daugherty posted, leading to his latest arrest, is here:
John Palmer, a former Department Manager at the Taylorville Walmart, from where Daugherty was previously fired, comments: "This guy worked with me he is a nut case long history of threats. Google his name."
Todd Daugherty - Renewed Contact with Karol Madera = Another Arrest
On June 17, 2015, in an email exchange which Todd E. Daugherty says he sent to Laura Smith of the FCC, Daugherty seems to be very confused. As you can see and hear for yourself, at the links below, on three different dates in November, 2010, while recording his threatening podcasts, Daugherty repeatedly claimed that he was broadcasting on 145.550 mHz on the 2 meter band. After being duly advised, FCC attorney Laura Smith wrote, "The Chicago office is investigating."
The outcome of that FCC investigation (if any) is unknown, but, it is probable that the FCC had better things to do than wasting time investigating death threats made by an unstable, unemployed, Walmart cart-pusher, who reportedly plays with dolls and still lives with his parents, despite being 48 years old. On the other hand, federal officials might be somewhat concerned, considering the fact that Daugherty was previously charged with a felony for threatening to blow up Consolidated Communications, and the fact that he was under scrutiny by the FBI and the FCC for threatening to shoot children in the head while they played soccer.
Like his good friend and close confidant, Karol Madera, Daugherty is a well known liar with zero credibility, however, whether or not he was actually on the air is immaterial because Daugherty's threats were communicated via interstate commerce, which is a federal matter in the purview of the FBI. Notwithstanding Madera and Daugherty's ongoing homosexual obsession with operators on 14.313, there is nothing they can do to prevent speech about them, either on the air, or on the Internet.
Daugherty has apparently reopened this cold case by sending his admissions to the FCC and to Lisa Madigan, the Attorney General of Illinois. In essence, Daugherty has stupidly re-advised them of his crimes. The penalty for threatening an official, is 2 to 5 years imprisonment, for each crime, plus various fines, plus additional prison time, because Daugherty's already a convicted criminal.
The statute of limitations for each threat is seven years, leaving the government two more years in which to prosecute and imprison and/or fine Mr. Daugherty for his self-admitted crimes. The fact that Daugherty is in constant communication with 'Al Qaida Northern Command' -- aka Karol Madera -- may cause the authorities to take another long look at Todd Daugherty. We predict Daugherty be arrested again, and soon. Daugherty is even now posting pictures of the Taylorville police chief on his blog, which has 3 registered users. Naturally, two of the registered users are Karol Madera, who has once again been inciting Daugherty to violence. Madera posts as CDN, as he also posts at Radio Reference.com. Madera is banned from all responsible websites, including QRZ.com, Ham Island, and eHam.net. Todd Daugherty has also been banned from various sites, but they have both posted frequently at the Nimbusters site, where no one is banned. Here is one example of a post by N9OGL: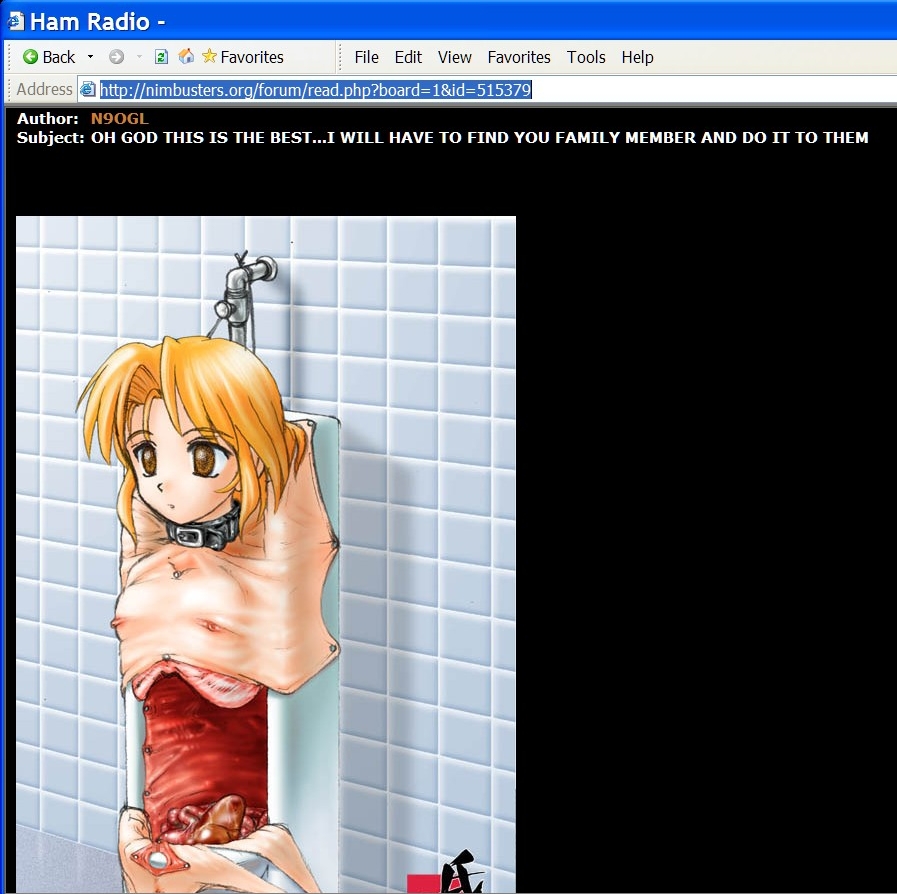 00:28 "This is on 145.550 mHz on the 2 meter band."
26:50 "This is N9OGL and we're on 145.550 on the two meter band."
http://www.mediafire.com/?k313ay1ta4aa3i7
42:45 "This is N9OGL on 145.550 Broadcasting with a power of 25 watts."
1:06:45 "I'll be on tomorrow night about 10 o'clock."
http://www.mediafire.com/?6ov42ez849oxqhk
00:10 "This is N9OGL and it's 11:40 right now CST."
14:20 "This is the N9OFL show, broadcasting on 145.550."
52:10 "If any ham operator comes to my fucking house I swear to God I'll fucking kill you son of a bitches and that goes for the dumbass motherfuckin'cocksucking FBI agents."
53:40 "That fat fuckin'cunt bitch Laura Smith ain't gonna do shit about it."
http://www.mediafire.com/?yf5l56wijy48194
Threatening ex-Walmart Cart-Pusher Sentenced After Entering Guilty Plea
In June, 2010, Todd E. Daugherty a friend and close confidant of Karol Madera, VE7KFM, was found guilty of criminal harassment. Daugherty was sentenced by Judge Spears in August, 2010 in Taylorville, IL. The charge resulted in a sentence of 2 years probation, with special conditions, a fine of $1,500, attorney fees and court costs, and restitution paid to victim(s). Daugherty failed to complete his probation, was called to a probation hearing, and was placed on house arrest for the duration of his probation after he threatened his probation officer, Melissa Kindermann. Daugherty, who once pushed carts at Walmart, was fired in August, 2013. Daugherty paid off his fine in $100 monthly increments.
Christian County Probation
111 W. Franklin Street
Taylorville, IL 62568
217-824 4831
FAX: 217-824-5023
Many amateur radio enthusiasts have stated Daugherty's history of criminality, his 2 FCC Warning letters, his threats against other amateurs and their families, his contempt for the FCC, and his lack of understanding of FCC rules, make him ineligible for license renewal. In fact, his license has been set-aside for enforcement action. If you'd like to listen to Todd, he has a semi-regular podcast on Talkshoe.com and his shows are archived for your listening.... enjoyment.
Daugherty was previously WARNED by the FCC ( #1, #2 ) for alleged infractions of federal law pertaining to his Shortwave radio station.
Due to Daugherty's continued threats, there is widespread speculation that Daugherty's current charge only marks the beginning of his legal trouble. Sources indicate Daugherty could also face future charges of criminal harassment, threatening, stalking, solicitation of murder, and/or other charges, due to statements he allegedly placed on the Internet.
From time to time, Daugherty assumes the identity of a fictional character named Fox Smith. This is Daugherty's 'alter-ego' or, pen name, if you will. Daugherty has posted on various Internet forums as Fox Smith, invariably coming to the defense of Todd Daugherty (himself). Daugherty wrote a short story entitled Dimensions Unbound under the nom de plume Fox Smith.
Local police and the FBI have received many complaints regarding Todd Daugherty. Todd lives with his parents at 800 W. Main Cross, Taylorville, IL. As mentioned, he pushed carts (part time) at the Taylorville, Wal-Mart, before he was fired.
Todd Daugherty said he hosted the OMEGA ONE RADIO SHOW on 13.556 and 6.950 mHz. mHz. He received two Warning Letters from the FCC about his show.
The FCC sent a list of questions about the power levels he used to transmit his show. Daugherty claimed he was heard around the country, which would be quite a feat for a station emitting only a few milliwatts of power.
Daugherty claimed he had an FM station, a CB station, and a Shortwave station on the air but all of the power levels he claimed on the Internet were well in excess of permissible levels). Daugherty's statements were reported to the FCC and Daugherty's own statements led to the issuance of his 2 Warning letters. Ironically, Daugherty threatened those who reported his statements to the FCC, calling them "liars" and "bitchwhores."
In 2009, in an act of retaliatory rage, which Daugherty is known for, Daugherty went so far as to post a solicitation for murder regarding a man Daugherty believed had forwarded his statements to the FCC and FBI. After receipt of his first Warning Letter from the FCC, Daugherty wrote:
"If you wish to proceed to go after me for a lower radio station under Part 15, then go for it! I will challenge it in the courts. I want the FCC to go to court and explain why they LIED all these years about the waiver process. I want the FCC how they SCREWED me out of licenses. I also want the FCC explain why they are going after a Part 15 station, which isn't even on the air, but are allowing amateurs to abuse and harass other amateur radio operators and purposely and maliciously interfere with stations on the air and explain why these individuals still have a license. It is these same individuals who informed the FCC about my Part 15 station and it is these same individuals who had me kicked off of ever service provider in my area "banning" me from the Internet. So here's a suggestion either consider my waivers and applications or dismiss this, because I will fight it!"
We have quite a few recordings in our collection pertaining to N9OGL. They truly exemplify Todd's 'interesting' view points about how to run a radio station. This recording is typical of Daugherty's radio operation. In this recording, Daugherty rants, sputtering and screaming into his microphone: "Fuck You" and "Fuck You up the Ass." On that occasion, complaints were made to the FCC that Daugherty interfered with a frequency in use, while ranting like a madman.
Daugherty's anime collection is infamous, consisting of graphic animated images of children (infants and children 4 to 5 years old) being, raped, dismembered, tortured, and sexually penetrated by adult males and assorted large objects. This group of lolicon images (lolicon translates to "lolita complex" -- the adoration of young girls by adult men) was so disgusting, it was removed by Google, even though that company is notoriously lax about complaints regarding offensive images.
Daugherty's typical response to people who have made complaints is to threaten them with bodily harm. Daugherty lives with his parents, enjoys gaming, making threats, podcasting, and collecting and trading animated images of children being raped and tortured.
As of August, 2013, the FCC has failed to take further action regarding Daugherty's license. Daugherty has reported that he was visited by the FBI and questioned regarding his threatening statements. Daugherty is a longtime confidant and supporter of Karol Madera, VE7KFM and a supporter of Glenn Baxter, K1MAN.
In a matter related to his criminal conviction, Todd Daugherty maintained that Thomas O. Finks, the State's Attorney who prosecuted him is "a pompous asshole, a crook, a fucking queer, and a moron." Calling Tom Finks 'a fucking queer' seems a bit far-fetched, however, many internet pundits believed Finks should have prosecuted Daugherty on the felony charge, because by that time, Daugherty had threatened many people, including a 10 year old boy, whose mother was terrified for her son's welfare.
According to the Illinois State Bar Association, the Illinois Supreme Court suspended Thomas O. Finks of Taylorville:
"Thomas O. Finks, Taylorville, who was licensed in 1984, was suspended for sixty days. While serving as the State's Attorney of Christian County, he became a candidate for judicial election and circulated nominating petitions that omitted specific information concerning the judicial vacancy he sought. He also failed to supervise his secretary when she notarized signatures on two nominating petitions, even though the circulators of the petitions did not appear personally before the secretary. Finally, on two occasions, he and his secretary did political work related to his judicial campaign on county time using county resources."
Mike Havera handily defeated Finks in the election for State's Attorney. Havera said it's his top priority to "fix the communication gap with law enforcement." He makes himself available to the county sheriff's office and area police departments around-the-clock. Christian County Sheriff Bruce Kettelkamp said better coordination with the state's attorney is a much-needed change. "We need to have a great relationship, and it's something we haven't had for quite some time in Christian County," Kettelkamp said. Havera's predecessor, Thomas Finks had his law license suspended after admitting that he altered nominating petitions while running for a judgeship in 2009. Kettelkamp, the county's first Republican sheriff in many decades, said he enjoys working with Havera.[Courtesy State-Journal Register]
Thanks to Milt Waddams for compiling the information on this page.
Todd can be reached at: 800 West Main Cross, Taylorville, IL, 62568. Phone Number: (217) 824-3675. Or, via his Talkshoe Radio venue, heard irregularly over the Internet.