FEATURED: Waste, fraud, and abuse endemic at the FCC -- Porn addicts, thieves, liars, dimwits, and jammers. See this page and our extensive archives.
Magna Carta: Eight Centuries of Liberty - Its Revolutionary Impact Still Resounds Today
June marks the 800th anniversary of Magna Carta, the 'Great Charter' that established the rule of law for the English-speaking world. Starting with Magna Carta, the defense of freedom is everyone's responsibility. Americans, like Britons, have inherited their freedoms from past generations and should not look to any external agent for their perpetuation. Government does not confer freedom; rather, we are born free, and the defense of liberty is your job and mine. As Thomas Jefferson put it, "The tree of liberty must be refreshed from time to time with the blood of patriots and tyrants." It is up to us to keep intact the freedoms we inherited from our parents and to pass them on securely to our children. Read More
Wall Street Journal - How the FCC Will Wreck the Internet
"Everyone who cares about investment and growth in the high-tech sector, as well as net-neutrality protections, should refuse to accept the FCC's flawed order as a fait accompli and demand that Congress find a better way." Read more
Lawsuits Solidify Against FCC's Net Neutralization Scheme
AT&T has said net neutrality rules "violate the terms of the Communications Act of 1934, as amended, and the First and Fifth Amendments to the US Constitution." The US Telecom Association, CITA - the Wireless Association, and Centurylink, Inc. are also filing lawsuits. USTelecom, the CTIA, and the NCTA all ask exactly the same thing, in exactly the same words. They ask for review of the Order on the grounds that "it is arbitrary, capricious, and an abuse of discretion within the meaning of the Administrative Procedure Act...; violates federal law, including, but not limited to, the Constitution, the Communications Act of 1934, as amended, and FCC regulations promulgated thereunder; conflicts with the notice-and-comment rule making requirements [of the US code]; and is otherwise contrary to law." Other ISPs plan to use the First and the Fifth Amendment for attacking the decision made by the FCC. When FCC Chairman Wheeler was asked about his plan to fight off the challengers, he said, "Not to lose. That's the short-term plan."
Congress Announces Bipartisan Victory for Due Process, Transparency, Predictability, & Accountability
"Due process and transparency are too important to simply give up on and I applaud the subcommittee's commitment to making meaningful improvements. My colleagues from both sides of the aisle have offered sensible reforms that will improve the function of the FCC in a significant way. Transparency and process are the foundation of public trust in the government and are critical to the legitimacy of law." - Chairman Fred Upton (R-MI).
"I am pleased that both Republicans and Democrats alike recognize the value of increased transparency at the commission and see a need for congressional action to improve the FCC's decision-making process." Chairman Greg Walden (R-OR).
Click here for more information
Chairman of the House Communications and Technology Subcommittee on FCC Failures:
FRUSTRATION WITH THE FCC
"I get my dander up when I think an agency is running amok. I just think you get better outcome on policy if you have a good process. Then at least people feel like they have an opportunity to make their case. Just some of things I've seen happen at the FCC, the way it's being managed right now, isn't as good as it could be." Chairman Greg Walden (R-OR).
FCC IS CLOSED AND OPAQUE
"I've about run out of patience, maybe it came through in my statement the other day. They are the professional agency, but they shouldn't be the legislative body and they're tilting too much that way. The FCC is so closed and so opaque."
FCC MUST IMPROVE PROCESS AND TRANSPARENCY
"We've moved from a position a year or two ago where the agency could do no wrong to [a recognition that] there are things we can do to improve the process. And you see that from members on both sides of the aisle coming forward with their ideas about how to make things more transparent..."
FCC IS UNCOOPERATIVE
"We're having difficulty getting the documentation from the FCC that underpins their decision making [to close 16 of 24 field offices]. They're not being very cooperative on that. They gave us four slides, but not the underlying documentation. [The FCC] is playing hide the law."
FCC NOT A WELL RUN AGENCY
"We have seen enough to know the FCC falls short of the standard for a well-run agency." "Transparency should not stop at the doors of the FCC," said House commerce ranking member Frank Pallone (D-N.J.)
FCC VIOLATES FREEDOM OF INFORMATION ACT AND PRIVACY ACT
"This is the public's right to know." This is how the public understands what's happening and not happening and your organization is redacting this information and it's wrong." - Jason Chaffetz (R-UT) In other cases, the FCC has failed to redact sensitive personal information, in violation of the APA and the Privacy Act.
PRIVACY RIGHTS IN FOCUS
Senator Rand Paul engaged in a Senate filibuster to prevent illegal surveillance of Americans' communications, as the FCC proceeds with its plan to take over the Internet, against the express wishes of the majority in Congress and two of its five Commissioners -- even though there's nothing wrong with the Internet. Meanwhile, a little known provision of the Communications Act allows the FCC to enter American's homes without a warrant, at any time of the day or night, ostensibly to 'inspect' their electronic equipment. This includes the government's ability to inspect cell phones, computer routers, cordless phones, laptop computers, tablets, and any other wireless device with a transmitter, including the key fob that sends a signal to unlock a car door. All this, under the rubric of the Communications Act, designed to regulate Ma Bell in 1934. Can you refuse entry? Sure you can, at a cost of $7,000, or more, if the FCC applies a vague 'upward departure' requesting even more money for your refusal to allow their warrantless entry. The FCC believes the authority derived from the Communications Act, supercedes the 4th Amendment to the United States Constitution. With all of the recent focus on privacy, the Supreme Court may have a different opinion.
Special Thanks to Katy Bachman katyonthehill.com
Witnesses at Congressional Hearing Hope to Cure FCC's Lack of Fairness, Predictability, and Transparency
The Committee opened with its statement, for the reason for the Hearing, stating, "Over the past three Congresses, both the Democratic and Republican members of the Subcommittee on Communications and Technology have voiced concern with the lack of predictable process and consistent transparency at the Federal Communications Commission." Many Americans believe the hearings amount to locking the barn door after the horse has gone. In other words, no attempt to repair the FCC is likely to work. There is too much ingrained arrogance, ineptitude, corruption, and laziness. The only real solution, according to many, including some in the Congress and the Senate, involves dismantling the agency entirely and beginning again with a smaller, more predictable, accountable, and transparent organization, with new rules, a new purpose, and new leadership.
Free State Foundation President, Randolph J. May testified about the lack of fairness, openness, and transparency at the FCC, stating, "The Commission's own process reform efforts have fallen far short of what needs to be done." Mr. May said rules should be reviewed every two years, and noted the fact that the FCC is subject to the minimum requirements of the Administrative Procedure Act, but they are empowered to exceed the minimum requirements. The Committee has identified actual process failures that merit further examination, according to Mr. May. "Indeed, during the past year or so, process failures appear to have increased," according to Mr. May.
Stuart M. Benjamin, Chair in Law and Associate Dean for Research at Duke Law, noted that ambiguous, arbitrary, and capricious rules and procedures invite lawsuits. Mr. Benjamin had several suggestions for rules changes which would allow for greater transparency and public comment. Mr. Benjamin also said, "All FCC actions should be subject to a cost/benefit analysis." Mr. Benjamin also said, "the Commission should rely on the most accurate and up to date information in making its decisions."
Robert McDowell, former Commissioner and Fellow at the Hudson Institute, testified about the need for reform, based on due process, accountability, fairness, and efficiency. "The bottom line on reform efforts, however, is that they should be based on the principles of sound due process, transparency, accountability, fairness and efficiency." McDowell also noted that the FCC must reform so that they can quickly adapt to changing technologies. Mr. McDowell said, at the end of the day, Orders have to be fair, open, transparent, and appealable, and "Lastly, I would be remiss if I did not reiterate my call for Congress to rewrite our country's creaky and antiquated communications laws. The 1934 Act will celebrate its 81st birthday next month and the 1996 Act is almost 20 years old. A lot has changed in just the last few weeks, let alone the last 81 years. We need to modernize our communications laws to reflect current market conditions and technologies."
FCC Gives Congress (Some) Info About Field Office Massacre
Are you interested in the PowerPoint presentation the FCC gave Congress about the FCC rationale for cutbacks in their field offices? See it here. Simply put, field offices and field agents are extremely expensive to maintain and their 'value added' to the FCC mission is not great when compared to the price of employees and the price of the real estate involved. According to various stakeholders, many field offices don't accomplish much, and time spent on interference resolution only averages about 40%, despite the fact that interference resolution is their reason for being.
Some offices had twice as many staff as needed, and many managers had only a few personnel to manage -- this is what we call the "All Hat, No Cattle" syndrome. Consider the fact that morale is terrible, agents pursue low value targets, and it costs $20 million dollars a year to support 24 field sites, and you get the picture. The average overhead for one field site is $400,000 and the total cost is an average of over $830,000 per site. Full time equivalent employees (FTE) cost the agency more than double the cost of staff at FCC HQ. The average field site has 4.5 FTE and many have 2 FTEs. For every 4 field employees, there's 1 manager. Currently, there are 74 trucks and 63 field agents, and (thankfully) the number of agents is soon to be drastically reduced. As Congressman Greg Walden said, it's time to sell some trucks!

Field offices are caught in outdated modes of enforcement. Each agent handles an average of 1 interference case every 5 weeks, or about 10, every year, which means the entire 'enfarcement burro' handles about 630 cases per year. Remember, many of these "cases" amount to a lack of paint on a tower, a burned out light bulb, an unlocked gate, an unmown lawn, a missing file, and other meaningful infractions, which are absolutely crucial to the orderly administration of the telecommunications industry.... ahem. Once again, that's 20 million bucks divided by 630 cases, for an average cost of $31,746 per case. If a licensee or pirate elects not to pay a forfeiture and decides to go to court instead, and then to the appellate court, (never mind the Supreme Court), even assuming the FCC can convince the DoJ to accept the case, just start adding zeros to the end of that sum.
How often does the FCC actually collect their ridiculously inflated forfeitures? That question should be easy to answer, but with the documented lack of openness, transparency, and accountability at the FCC, we had to dig for clues like Indiana Jones digs for buried treasure. The collection question was discussed fifteen years ago in a 2000 report from the Office of Inspector General, which audited the FCC's Civil Monetary Penalty Program. That assessment looked at all monetary forfeitures and found success in less than a quarter of them. Like the FCC's arcane and outdated rules, the word "success" is open to interpretation. Most fines in amateur radio are reduced, based on a documented inability to pay. Therefore, assuming someone agrees to pay something, a $10,000 fine might be settled for $500. Then again, it might not be settled at all.
What a way to run an agency; no wonder the country's broke!
The OIG report found a lack of coherent policy among the agency's bureaus on matters involving forfeitures, as well as institutional resistance from the Department of Justice to pursue such cases. According to the report, "The commission has not established an effective program for managing civil monetary penalty actions." Of course, we already knew that, and of course, not a damn thing has changed since the report was published, 15 years ago.
Planned cuts are expected to reduce the number of field agents from 63 to 33 individuals. The agency will help personnel find equivalent work. Coincidentally, my hubby overheard a McDonald's manager ask one of his employeees to change an overhead fluorescent light bulb, just this morning. Over 50% of field agents are of retirement age; please stay off those ladders boys! Management positions will be reduced from 21 to 5 individuals. A 'Tiger Team' will be based in Columbia, MD. They will be fed raw meat and trained to kill. Ok, I made that part up! Confidentially, though, entre nous, the FTE hours saved will go toward FTE hours to dysregulate the Internet.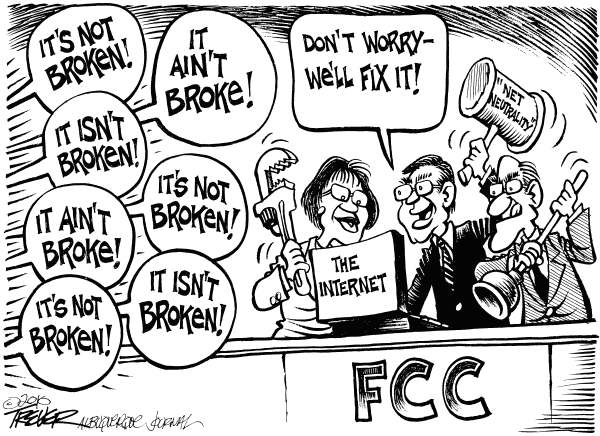 The FCC says savings from reductions-in-force will pay for better equipment than the old junk currently in use. Speaking of old junk, in an interview with National Journal's Technology Daily magazine, Congressman Fred Upton expressed shock at the condition of the FCC's equipment. "The agency is operating with fairly ancient equipment," said Rep. Fred Upton, R-Mich., who recently visited one of the agency's labs in Columbia, MD. "It was almost like going back to 10th-grade chemistry lab and finding it unchanged," said Upton, who graduated from high school in 1971. Congressman Upton made those remarks in 2001, and according to our sources inside the agency, "Not a damn thing has changed since then!"
Among other badly needed reforms, investigation and sanction processes will (finally) be standardized, along with increased training. Hopefully, this training will include the education of agents who are completely clueless about amateur radio, and the rules of evidence, and the Constitution, and... but don't hold your breath. The training is for "subject matters outside agent skillsets" which is a polite way of saying "right now, you have questions and they have blank stares." Google "Radio Shack Bankruptcy" for more details. Use of more portable equipment will be emphasized, because, as mentioned, the trucks contain old junk which was never designed to get the job done. To the uninitiated, the inside of a mobile digital direction finding (MDDF) vehicle might look fancy, but it's nothing more than an SUV, which contains a receiver, a short antenna, slaved to a compass rose, and a spectrum analyzer. All that and the equivalent of a first generation Garmin GPS system, which is accessible from a touch screen. Yawn.
The rest of the rationale for the FCC's field office massacre (FOM) is included at the link above. It's not a bad plan, except that we all know the FCC could fuck up a wet dream, and that's not likely to change anytime soon, or at all, ever. Take this direct quote from a field agent as an example. "I have no idea what HQ defines as success." That's okay buddy, no one else can figure it out either.
Thanks to Bev McIvor for information on this page.
Congress Questions FCC Conflict of Interest
House leaders want more information about the relationship between the FCC and an investment banker they hired to prepare economic models for the upcoming broadcast incentive auction. Lawrence Chu, former managing director of Greenhill & Co., left that company two months ago to volunteer at the FCC. Greenhill was retained by the FCC last fall and has provided two reports so far. The FCC estimated the value of Chu's work at $300,000.

Concerned about the apparent conflict of interest, and any apparent quid pro quo, House commerce chairman Fred Upton (R-MI.), subcommittee chairman Greg Walden (R-OR.), and subcommittee chairman Tim Murphy (R-PA.) wrote to the FCC Thursday seeking more information. "FCC decisions have sweeping impact on the economy well beyond the industries it regulates. We want to be sure that any work done by the commission, or on its behalf, is for the benefit of the American people." The FCC has until May 13 to respond.

Source: katyonthehill.com
The FCC is a Toothless Paper Tiger
Recently, the National Association of Broadcasters and the American Radio Relay League have discussed the FCC in unflattering and skeptical terms. The ARRL referred to the FCC's Enforcement Bureau as a toothless tiger, and the NAB referred to them as a fangless, paper tiger. These observations are not new or original. John Anderson of DIYmedia called the FCC a paper tiger ">in June... 2001 and again in 2006, and again in 2013. Golly, maybe we can convince John to write for this rag? Meanwhile, Mark Crosby, CEO of Enterprise Wireless Alliance (EWA) said, "I would like to believe these commitments and promises of better wireless days ahead resulting from these reorganization plans, but I am having difficulty drinking the Kool Aid."
Link 1, Link 2, Link 3, Link 4, Link 5, Link 6, Link 7, Link 8
Most stakeholders are skeptical of the FCC's ability to follow through with their Flying Tiger Team approach. Broadcaster's privately believe the field office closures are designed to transfer funds to more full time equivalent (FTE) employees to police the Internet. Broadcasters, wireless managers, and the ARRL clamor for more enforcement, but all of them have less than altruistic reasons for doing so. Broadcasters lose money when popular pirate shows siphon listeners, creating drops in ad revenue. Unruly amateur bands cause fear at the ARRL that amateurs won't be taken seriously, and that future DHS and other grant funds will be unavailable as a result.
The EWA's Crosby: "Not that long ago, [FCC] field staff too often had to say "We can't go investigate this interference matter, as we do not have the budget to put gas in our vehicles." Yet now the Commission is going to invest in new interference-mitigation technology, remote-monitoring capabilities, agent training, airline tickets, and rental cars for the Tiger Teams?"
As always, its easy to find the answers, when we follow the money. Speaking of money, it's widely known that AM and FM stations routinely pay NALs, because, in a cost/benefit analysis, paying the fine usually costs less than going to court. Because the FCC can hold up license renewals for years at a time, stations are ready to payola the inflated NAL's typically assessed for unlocked gates, chipping paint, broken light bulbs, late filing of paperwork, and other critically important issues.
However, when the FCC fails to follow its own rules, which is a daily occurrence, there are few, if any consequences. Congressman Greg Walden operated radio stations. Some of his applications were delayed by the FCC for ten years. In the interim, Walden's children grew up and went to college. He sold his stations. Then he ran for Congress. He and his fellow legislators would like to see the FCC become fair, open, accountable, and transparent.
Where amateur operators are concerned, income from the radio station isn't a factor, and for most "hams," radio is just a pastime. As a result, there's no incentive to pay ridiculously inflated NALs based on unsubstantiated evidence. NALs are only collected when, and if, amateurs elect to pay to pay them. Serial jammers and pirate stations have been making fools of the FCC for years. The ARRL's QST, and other ham trade magazines, publish FCC "actions" in a poorly reasoned effort to create deterrence. In fact, the opposite is true. Deterrence only takes place when there are concrete consequences. Meaningless warning letters, NALs, and forfeitures are not "enforcement" of any kind. They are, rather, evidence of a lack of enforcement.
The Emperor has no clothes. Apparently everyone realizes this, except QST, the other ham trade publications, and most of the participants in forums which discuss the obvious lack of amateur enforcement. The FCC can issue an NAL, which accomplishes nothing. The FCC can issue a forfeiture order, which accomplishes nothing. The FCC can obtain a court order, which accomplishes nothing. The FCC can take away a license, which is not the same as getting someone off the air. The FCC produces tons of meaningless paper, but, that paper should never be confused with enforcement.
A little known fact; the FCC has no power to collect the forfeitures they assess, and an FCC "order" is completely meaningless, unless and until the FCC proves its case in court. Each case is subject to a trial, and an appeal, and an attempt at certiorari before the Supreme Court, if there are Constitutional questions. The FCC and the licensee are equal parties before a federal judge and the FCC must prove its case with a preponderance of the evidence. Easier said than done.
Before the circus begins, the FCC's required, by law, to jump through a variety of legal and administrative hoops. This is called due process. Travis LeBlanc, the FCC's enforcement chief has taken an aggressive approach to enforcement, levying huge fines, but with flat budgets, outdated and decrepit equipment, and terrible morale in the enforcment bureau, it's an uphill battle. Big broadcasters and bigger Internet conglomerates have seen the changes inFCC tactics, and they're lawyering up. They have more money, more expertise, and more lawyers than the FCC has. Meanwhile, the enforcement bureau's being gutted from within, and the FCC's support in Congress and in the courts, is at an all time low.
Speaking to low priorities, amateur radio is increasingly the unwanted, adopted child of the FCC. Amateur cases are a drain on resources, and in times of budget cutbacks, there's very little incentive to police the behavior of ham operators. More than 50% of FCC field agents are eligible for retirement, the number of field offices will soon be cut by two thirds, and the writing is on the wall. In many areas, amateur radio already resembles the Citizen's Band of the 70's and 80's. How long will it be before the FCC allows Kelloggs to put a ham license coupon in every box of Fruit Loops?
How many amateurs actually pay those inflated forfeitures we read about in QST? Ask the FCC. Like our old friends at Radio Shack, you've got questions; they've got blank stares. More often than not, the DoJ never takes amateur cases because they're unwinnable. For example: Perhaps the forfeiture was all just a pack of lies in the first place. Maybe it was concocted by an inept field mouse, supported by a stoned, child porn addict, who was jerking off masturbating at the HFDF Center, or maybe the case was connected to an FCC Watch Officer who was drunk off his ass, inebriated, while jamming 14.313 MHz with music coming from an FM radio station.
These examples are by no means hyperbolic. See links 1 and 2 above. Many times, the FCC loses evidence, or; the evidence the FCC relied on was unsubstantiated, with insufficient evidentiary support, or; the FCC misinterpreted their own regulations, or; the FCC failed to maintain a proper chain of custody, or; there was illegal retaliation on the part of the FCC employee, or; there was a failure in a hundred other potential pitfalls in witness reliability, administrative procedures, statutes, regulations, and the FCC's arcane and ambiguous rules. Once again, it's all about due process.
Often, the 5 year statute of limitations expires before the DoJ is able to take the case to court. In essence, the DoJ tells the FCC, "We'd love to handle this, honestly, but we're swamped with, ahem, real crimes, and it's unlikely we can get to this very important matter within the next 4 years." Remember, it usually takes the FCC at least a year to follow through with due process concerns, like serving the NAL to the licensee's address of record, within a year of the time violations accrued, and affording the licensee a chance to respond, and then examining the response, and performing an in-depth investigation, applying reasoned interpretations, etc., etc., etc..
Listen, as U.S. Air Force Major, James Beauchamp explains the importance of ethics and the rules of evidence to Canadian military impostor, Karol Madera (VE7KFM). Madera lied, telling the Air Force Major that he was a lawyer. Madera wasn't admitted to the Law Society. Instead, he was turned away, like the lying, unfit, psychopath nearly everyone recognizes him to be. Madera appealed the Law Society's ruling, but The Chief Justice of British Columbia (and both of his colleagues on the panel) politely called Karol Madera a liar, which ended any hope of his becoming a lawyer. When Madera's not lying about being a lawyer, he's lying about being a commercial pilot, a jet jockey, an ADC to two Generals, a Naval Captain, being fluent in 5 languages, or a hundred other ridiculous lies. As usual, when the Air Force Major schooled Madera, VE7KFM's childish response to the truth, was slander, name-calling, obscenities, and jamming the airwaves, for the next half hour, in gross violation of international treaties.
As U.S. Air Force Major Beauchamp patiently explained to his dim-witted pupil, any violation of the Administrative Procedure Act, the Freedom of Information Act, the Privacy Act, the U.S. Constitution, common law torts, constitutional torts, negligence, failure to adhere to required elements of the U.S. Code, and the Code of Federal Regulations, and the whole circus is over before it starts.
In theory, what Beauchamp said was absolutely true, but the FCC can, and they often do, bluster and defame and publish false allegations until the cows come home. Then, the amateur radio forums, and QST, and hams ignorant of the law, hash and rehash the FCC's false allegations in an orgy of meaningless blather for the next 5 years. That's the real circus. Unfortunately, U.S. sovereign immunity prevents licensees from suing the FCC's rodeo clowns and keystone kops for defamation, but as far as money changing hands, and as far as real amateur radio enforcement is concerned, the FCC is not the place to look for that, and it never has been. Don't believe it? Tune into 14.313 and listen, any day, and every day.
Sometimes, when a licensee is actually guilty of violating the FCC's rules, the licensee will confess and a fraction of the amount initially assessed may appear in a consent decree. Jared Bruegman, aka "Jesse James" was assessed $10,000 for playing the banjo for hours at a time, for several years, on several different bands. His forfeiture was reduced to $500. It's unknown whether Jared ever paid off the amount owed. [ Maybe he'll write in and let us know. ] Of course, Bruegman didn't have a license, and the FCC was required to send him a warning before issuing a forfeiture. Mr. Bruegman is a non-licensee, and a non-applicant, who, under 47 U.S.C. section 503(b)(5) and 47 C.F.R. section 1.80(d), was entitled to receive a warning prior to the issuance of the forfeiture. The FCC failed to issue Bruegman a warning. What a surprise. If Jesse James had been able to research the rules, he would have known. However, the rules are arcane, and written in a language familiar to the attorneys for late 1800's railroad barons, for whom they were intended, rather than the plain language required by the Plain Writing Act and Mr. Obama's, Executive Order, number E.O. 12866. The FCC's complete lack of transparency regarding who pays what, and when, is another unknown mystery in the hilarious myth of amateur radio enforcement.

In the Glenn Baxter (K1MAN) case, the appeals court disallowed everything in the FCC's forfeiture, except what Baxter expressly admitted. Baxter admitted some incidental interference, and as the court put it, he "stiff-armed" the FCC when they asked for more information. He did it proudly and unabashedly. To him, it was worth the theoretical $3,000. With no formal legal training, Baxter reduced the amount of the NAL by more than 50% and he still hasn't paid a dime. Baxter completely ignored two previous NALs that were miscalculated, which then became stale, even before the FCC could convert them to forfeiture orders. More importantly, Baxter's still on the air. Is that enforcement, or a ten year circle jerk? You decide.

Bill Crowell, W6WBJ, is also still on the air, despite the fact that his renewal hearing has been stalled since 2010. His petition to disbar attorneys, and the judge in the case, is curiously whited out, which is not the same as being properly redacted pursuant to the Freedom of Information Act, is it? Maybe it's an error. Maybe it's not.

David Castle (WA9KJI) lost his license. Herb Schoenbaum (KV4FZ) lost his license. Both men got their licenses back. No forfeitures were paid.

David Tolassi (W4BHV) threatened to shoot an FCC enforcement official, and another licensee in the head, at the Dayton Hamvention. Then he threatened to blow up the Hamvention with a fertilizer bomb. Tolassi still has a license, despite multiple genuine warning letters, despite being retested, despite being taken off 20 meters for 3 years, despite being arrested and jailed for allegedly beating his wife while in a Klonopin and alcohol fueled rage. No NAL has ever been assessed, despite FCC promises to get Tolassi off the air. Why? The FCC "lost the evidence...."

Todd Daugherty (N9OGL) solicited a hit man to kill two amateurs. He sent the FCC and Karol Madera an email notice of his plan to murder children and blow up fellow amateur's homes. Daugherty was charged with criminal harassment for threatening to blow up Consolidated Communications. Tolassi was placed on house arrest for threatening his female (of course) probation officer. Tolassi threatened to interfere with air-to-air traffice. He still has an amateur license and there has been no NAL, despite two genuine warning letters.

Michael D. Adams (AE4FB) a notorious drunk, drug addict, and pathological liar, threatened to light himself on fire in an attempt to extort the Enforcement Bureau into doing his bidding. Unfortunately, they didn't call his bet. Adams endorsed taking people out with a sniper rifle at the Dayton Hamvention. He concocted a shooting hoax with Karol Madera, and he interfered with ongoing communications, many times. Adams played music, and played his Shaman's drum over the air. Mike Adams, AE4FB, called Mr. Obama "a good Nigger who sucks rich white dick." There has been no enforcement activity in the Adams case. What case?

George Arsics, (W2VB), an FCC HFDF Watch Officer, was reportedly found, by his peers, to be jamming 14.313 MHz with music from an FM radio station. However, there was no NAL and no consequences for Mr. Arsics where his amateur license was concerned. Perhaps the FCC was too embarassed to consequence an HFDF Watch Officer who they said was jamming 14.313 MHz. The FCC tried to fire Mr. Arsics, but he retained his job... because... the FCC failed to follow administrative procedures.

Speaking publicly, Mr. Arsics stated that the Enforcement Bureau often issued NAL's with unsubstantiated evidence. "If there was insufficient evidence to support the notice, I was directed by management personnel to send it to them and let them deny it. It would seem, the intent was to intimidate and harass." Arsics also charged inequitable and selective enforcement of the Commission's rules. "It was assumed that private citizens did not have access to the same legal resources that corporations did. Thus, private citizens, such as amateur radio operators, were more vulnerable to selective enforcement."

Shocking, isn't it? Arsics was an FCC employee, a Watch Officer, at the Powder Springs, Georgia, HFDF Center, and he stated, "The FCC was a cesspool of corruption where only money and egos mattered." Reading between the lines, many in Congress agree with Arsics.

The legislative intent of Congress is abundantly clear. Congress wants change. Congress wants fairness, openness, transparency, accountability, reasoned interpretations of FCC rules, strict adherence to laws, regulations, and processes, and the U.S. Constitution. Congress is only asking for every American's birthright. Whether they get it, or not, is another matter, of course.

Industry Canada's no better than the FCC when it comes to inequitable and selective enforcement. Rather than enforce rules on the books, IC merely did away with rules so that no enforcement was necessary. Jim Laursen, of IC, told Riley Hollingsworth, "ham radio is simply talk for the sake of talk." In essence, Laursen was saying, who cares if some Fruitcake calls on al Qaida to murder American citizens?

Karol Madera's been threatening Americans and inciting murder for years. IC yawns, continues to pass the buck, peddles reams of paper which few people ever read and which fewer care about. That's the very essence of a bureaucratic agency. Industry Canada, like the FCC, is a form of federal welfare for hundreds of people who are marginally and notionally employed, but in reality, they often have nothing better to do than sit at their desks, watching porn, talking on the phone, texting friends, and generating pounds of useless paper.

In the case of the FCC HFDF employee downloading pornography in March, 2014, he or she wasn't the first by any means. He or she, spent many work hours, downloading and watching porn, and cruising Craigslist for paid sex trysts. FCC contractors watched porn with names like 'sweet 16' and 'hot young amateurs' while regular FCC employees also watched porn, or sold personal care products from their desks. Dozens of employees come in late and leave early, or the "work from home" with inadequate supervision, all on the taxpayer's dime.

The FCC's justification is, 'We bring in 13 times what we ask in return!' The FCC was referring to spectrum auctions, to which Congress replied, 'It's not your spectrum, and it's not your money, and please stop pissing down our legs and telling us it's raining.' No wonder the U.S. is operating with a staggering and growing debt for every man woman and child. Since 2012, the debt has increased at a cost of 2.2 billion per day. Each citizen's share of this debt is $56,651.07. And the FCC just asked for a raise. God forbid.

Let's face it, the majority of FCC employees are probably decent, hardworking employees, eager to serve the American people. On the other hand, one bad apple can spoil the whole bunch. If you've read the FCC's OIG reports, you know there are many bad apples, sitting in entrenched systems which are full of abuse, waste, and fraud, and these are disgraceful disservices to all Americans. The culture can only be changed by turning bad apples into slops for the hogs and charging management to make real changes, deep down, in the very ethos of the agency. That's where Congress comes in. Nothing else will get the job done, unless Congress liquidates the agency altogether, placing adequate performers under a different agency, like, the FTC for example. It could happen.

Congress has openly questioned the FCC's openness, fairness, and transparency. While discussing the closure of most of the FCC's field offices, FCC Chairman Wheeler told the Chair of the Committee, Congressman Greg Walden, "When you have more trucks than you have people...," Walden remarked, "I'd sell some trucks." ( at 55-56 minutes ) It's obvious that the leadership of this Congress has a great disdain for the way the FCC conducts its business, and that disdain has been clearly communicated with funding cuts, a barrage of questions, skeptical remarks, and multiple requests for documentation, concerning the FCC's questionable decision-making and opaque management practices.

The ARRL's Dave Sumner discussed the lack of transparency and the duplicity of the FCC, back in 2009 when Sumner pointed out the FCC's complete lack of transparency, as he quoted the BPL court, who said: "There can be no doubt the FCC deliberately witheld information that was contrary to its conclusions."

To say that broadcasters are skeptical that the "Tiger team" concept will work is an understatement. The DOE for a radio group said the field office closure plan "sickens me" and fears pirates will become even more of an issue to licensed broadcasters. Chairman Wheeler pledged to put more agents on the ground in Miami and New York specifically to combat pirates, however broadcasters remain skeptical of the plan. The consultants estimated that 108 personnel work in the field offices for a total of $12 million annually in wages and an additional $3 million in benefits. The 74 direction-finding vehicles consume some $90,000 to $115,000 each. Travis LeBlanc has stated that taking pirates off the air is like playing whac-a-mole. Put one down and another six pop up in the first one's place. He was talking about FM pirates, but he's right, and the same is true in amateur radio. Traditional enforcement doesn't work and Chief LeBlanc understands this.

One broadcast attorney deemed the "Tiger team" concept "crazy" and doubts there will be much of a travel budget in the new plan. "I have been reporting pirates in Boston and Providence for over 15 years, both as a independent listener, with standing, and as a professional contractor for stations, and as a FT chief engineer for stations. NOT ONCE have I ever seen the FCC ever acted on an interference complaint by a pirate radio station, despite repeated entreaties by myself and supporting claims by other engineers/listeners. One of the pirates in Boston not only operated for over a decade, but the guy RAN FOR MAYOR OF BOSTON. That's what it took before the FCC finally deigned to notice his illegal operation. Pirates laugh at the FCC's claims of spectrum enforcement."

By Aaron Read on 4/16/2015. Thanks Aaron, we couldn't have said it better ourselves.
Congressional Probe of FCC Continues
Our friends in Congress have cited an LA Times article on the harmful consequences of the FCC's net neutralization odor. As Commissioner Pai predicted, new Internet fees may be just around the corner, unless Congress can halt the madness. This session of Congress is to be heartily congratulated. In a very short time, they've done more to bring about an end to fraud, waste, and abuse at the FCC, while simultaneously calling for fairness, openness, and transparency in that agency's Byzantine labrynth of confusing and contradictory regulations, not to mention their Machiavellian methods of arbitrary and capricious enforcement. Along with Congress, the FCC's Office of the Inspector General continues to investigate the Enforcement Bureau's documented abuse of the public trust in the recent FCC pornography scandal and the episodes of FCC employee's who steal time and falsify their time sheets, among other abuses. Congratulations to hardworking staff and all the new hires at the Office of the OIG.

Congressional Committee Chairmen recently requested information about FCC decision-making processes and documents, so the committee may better understand the commission's thinking about a number of issues. "As you are aware, we have longstanding concerns with the fairness, openness, and transparency of the commission's administrative and rulemaking processes, including issues related to its document management practices. We recently wrote to you seeking additional information concerning whether the commission is fulfilling its statutory responsibilities regarding transparent and open public processes," wrote the leaders. We can only hope that the Committee will continue to demand answers and broad, lasting changes at the FCC.

Subcommittee(s) on Communications and Technology and Oversight and Investigations Question FCC on Data

Our representatives in two House Subcommittees are still probing the FCC in ways likely to make upper management uncomfortable. They filed a warning shot on March 27th, 2015, when they asked FCC Chairman Tom Wheeler about the plan to move the FCC's servers to West Virginia ahead of the FCC's general move out of the Portals II when their lease is up in Washington, D.C. later this year. According to our sources, the Subcommittee(s) have a sneaking suspicion some FCC servers may end up "missing" or "broken" in the way other servers at other agencies have "mysteriously" crashed and disappeared, and otherwise become unavailable for Congressional and Judicial scrutiny. Remember the expansion of the FCC's Office of the Inspector General? That wasn't designed to keep track of FCC outsiders, but rather those FCC employees who have made decisions that are less than open, transparent, and fair. The Subcommittees don't seem to trust the people running the FCC. Imagine that? Congress is moving in the right direction, but they haven't gone far enough, according to Peter Huber, who says the FCC is much too entrenched and much too corrupt to repair. Huber says (figuratively) it's time to burn it down and begin again. The Committee members have demanded answers within the next 5 days.

Copyright CENTER FOR MEDIA STUDIES 2006-2015