FEATURED: Waste, fraud, and abuse endemic at the FCC -- Porn addicts, thieves, liars, dimwits, and jammers. See this page and our extensive archives
Social Media, Mental Illness, and the Motivations of Copy Cat Killers
Digital forensics expert Tom Whatley discusses (below) the hidden motivations of shooters like Vester Flanagan, including what, and who, motivates them. Whatley has worked as a Detective and has assisted various federal agencies in a variety of venues. For example, Whatley helped the FCC play whac-a-mole with radio pirates in south Florida and he's worked with the FBI to find lost and missing children. He's worked with the DHS and U.S. Coast Guard Auxiliary, as well as Immigrations and Customs Enforcement and the Drug Enforcement Agency, among others. Tom Whatley is co-owner of the Digital Forensics Group.
In 2003, when the FBI was stumped for over 5 years on a case involving a kidnapped child, Whatley persuaded the National Center for Missing & Exploited Children to arrange a massive mailout of 75 million fliers displaying a photo of Angeline D. Bryan-Hoercher. As a result, the child was reunited with her mother.
Vester Flanagan was a fan of several high profile serial killers and he blogged about his admiration for them on FACEBOOK. In most cases, the police and other agencies get it right; in others, they drop the ball. Tom has been critical of enforcement agencies who ignore the ongoing threats of would be killers, or conversely, agencies that take illegal actions without adhering to the principles of due process and the cases of civil rights violations in the news recently. Whatley is pro self-defense and says he believes society should do more to keep guns out of the hands of the mentally ill. Vester Lee Flanagan, the crazed gunman who executed on live morning TV two local journalists who worked at his former station, was told before being fired by the station to seek help for possible mental health issues -- then he lingered in Roanoke, Va., for more than two years, living in a squalor amid cat feces, publicity photos of himself, porn and unwashed sex toys. "The issue here is, there's no really good mechanism to predict who will kill and who is a just a keyboard commando, if you will," according to Whatley, who went on to say, "People who make violent threats via social media, YouTube, Facebook, etc., probably ought to be sent to the psych hospital for 72 hour observation, but our laws don't allow for that -- yet."
Presidential contender, Donald Trump agrees with Whatley, stating, Mental illness is "a massive problem," one day after two Virginia journalists were brutally murdered by a disgruntled former co-worker, but he does not believe there is any need to get rid of guns. "If you try to do it, the bad guys would have them." Instead, the focus should be on solving the mental health issues. New York City's Deputy Police Commissioner for Intelligence and Counterterrorism John Miller, also agrees, calling Flanagan the classic injustice collector. Newsmax.com, publishes the Franklin Prosperity Report and Newsmax magazine with a distribution of 14 million. Newsmax also runs a cable news channel, Newsmax TV, reaching an audience of over 40 million.
FCC Conjures Regs Out of Thin Air & Is Poised to Ruin The Internet as We Know It
Given the FCC's penchant for conjuring regulation out of thin air, companies should be wary whether the agency's enforcement activities offer any limiting guidance regarding its future role in privacy or security enforcement.
If Congress had assigned this role to the FCC (it has not), and if there were no other agencies already tasked with protecting online privacy and security (there are), the FCC's current posture might make some sense. But for nearly two decades, the FTC has exercised its congressionally assigned role to protect the online privacy and security of U.S. consumers.
In the short term, imposing new obligations that conflict with what other agencies, particularly the FTC, were already doing, will cause companies to spend more time and money on compliance, and less on investing in networks and developing the next breakthrough technology. The Internet is far too important to U.S. economic growth and productivity to be saddled with unnecessary regulations from any agency.
Accordingly, the FCC should refrain from imposing its Byzantine privacy regime on broadband and Internet providers. If it doesn't, Congress may need to re-emphasize the roles it has set for agencies regarding privacy and data security issues. Meanwhile, we two commissioners - one from the FCC and one from the FTC - will continue to execute our individual duties to protect consumers while striving to minimize needless burdens on providers. Mr. O'Rielly has been on the Federal Communications Commission since 2013. Ms. Ohlhausen has been on the Federal Trade Commission since 2012. Read more - from the Wall Street Journal.
Incompetent FCC hits Travel Marketing With Huge Fine - For Violating Rules They Won't Follow Themselves
We all hate annoying telemarketers and their unsolicited texts and phone calls, but most of us hate incompetent bureaucrats and hypocritical fools even more. We propose the FCC for your consideration. The commission is fining Travel Club Marketing a total of $2.96 million for making 185 unsolicited calls to cell phones and landlines belonging to 142 people, most of whom were on the Do Not Call list. "It is unacceptable to invade consumers' privacy by bombarding them with unwanted and intrusive robocalls," says Travis LeBlanc, chief of the commission's Enforcement Bureau. "All companies, and their owners, who thwart the Do Not Call list should expect to face severe consequences."
Now consider the FCC's violations of it's own rules, which have not resulted in any fines at all. Remember the FCC employees who were downloading porn (including child porn), staring out the window all day, pursuing their side businesses at work, leaving late and going home early, all on the tax-payers dime? It's all in the FCC's OIG reports. Was anyone fired or forced to pay back those tax-payer dollars? Hello. Hello.... Anyone there....? Read the amusing tale of how the FCC 'clarifies' the very rules they fail to follow themselves brought to you by our good friends at Fletcher Heald & Hildreth.
The FCC flouts the rule of law
There is widespread agreement that overly broad, unduly burdensome regulations by overzealous administrative agency bureaucrats are harmful to the nation's economy. But less attention is paid to the way in which such regulatory overreach impinges upon - and thus devalues - fundamental rule of law norms.
While the adverse economic impact resulting from excessive bureaucratic zeal may be more immediately evident, and even quantifiable, the steady erosion of respect for the rule of law resulting from the exercise of unconstrained bureaucratic power is just as real. The Washington Examiner has more.
HuffPo Trashes FCC
The FCC and AT&T Don't Care About Rural Areas and They Can Just Make Crap Up
"Let me give you some highlights of how the FCC, our government, wasted New Networks Institute's time and didn't investigate even the basic claims, then just either got it wrong or put words in our mouth. What a shame it got the facts wrong and spent the time mostly making up garbage we never said or implied, or that the Agency is either in bed with the carriers or is in denial that it screwed up before, or was in a rush to push through the merger, or all of the above. Some have suggested we should just send the FCC a bill for the time spent by the lawyers and analysts who put together the Petition. The FCC is keen on pointing out potential issues with your facts; it has no interest whatsoever in getting at the truth. What is the FCC smoking?" Read more.
Garage Door Openers vs. Medical Monitors -- FCC Puts Patient Care at Risk
Despite protests from the American Hospital Association, three U.S. senators and 16 members of the House, the FCC has allowed unlicensed devices to co-exist with medical monitors. The attached July 21 letter from the AHA and the American Society for Healthcare Engineering, to the FCC, highlights our concerns....
"These unlicensed devices may cause interference with wireless monitoring, preventing doctors and nurses from receiving vital information," said Vice President of the ACA, Rick Pollack. "There are more than 360,000 WMTS patient monitors in hospitals today, many of which are used for women and infants during labor and delivery and critical heart surgery patients. ... The FCC did allow for an increased buffer, as advocated by Commissioner Pai; however, the commission ignored technical considerations in setting the distance and will require each hospital to demonstrate that larger protection zones are necessary."
Credit Agencies Enter Fray Against FCC
"Four ACA International company members move to intervene in support of the association's lawsuit seeking judicial review of the FCC's TCPA ruling. When the FCC issued the TCPA ruling, it fueled significant lingering uncertainty and fostered new uncertainty among consumers and the credit and collection industry alike. The level of uncertainty created by the ruling is sure to encourage even more TCPA class-action litigation. And while FCC Chairman Tom Wheeler would have the industry believe that the ruling created clear and easy to follow regulations, the ruling did nothing of the sort. As such, there is likely more opposition to the FCC's TCPA ruling to come." Read more.
More Tech Experts Challenge FCC Internet Rules
A vast coterie of allied tech experts called the FCC's net neutralization plan: arbitrary, capricious, bungling, ham-fisted, in excess of congressional intent, contrary to the first amendment, unnecessary, and unauthorized by the 1996 Telecom Act. They also submit that the FCC failed to consider evidence before it; a continuing theme of late.
The Telecommunications Industry Association (TIA) said the FCC failed to consider and respond adequately to extensive record evidence. Richard Bennett of the High Tech Forum said: "The FCC's order is an example of a bungling regulator achieving exactly the opposite effect from the one it set out to cause by failing to understand the subject matter. The Internet is capable of being much, much more than it has ever been, but the FCC's ham-fisted regulatory model will actually cause it to be much less than it is today." Former FCC commissioner Harold Furchtgott-Roth and the Washington Legal Foundation make two arguments: that Section 706 of the Telecommunications Act of 1996 does not authorize the FCC to regulate the Internet and that the open Internet order won't hold up to First Amendment scrutiny. The National Association of Manufacturers, the Business Roundtable, and the Chamber of Commerce of the United States of America argue that new broadband regulation is unnecessary and that new regulation would stifle investment in new broadband technology. The Multicultural Media, Telecom and Internet Council argued that public utility style regulation will harm the digitally unserved and underserved.
Christopher Yoo, an Internet legal scholar, argued that the order contradicts the technical principles that determined the Supreme Court's decision in National Cable & Telecommunications Association v. Brand X Internet Services. The International Center for Law and Economics drew on the expertise of several scholars and telecom law experts to argue that the FCC exceeded its legal authority as well as Supreme Court precedent in issuing the Open Internet order. They also argue that the FCC failed to consider appropriate economic studies, evidence, and the costs of the rules.
"If rules such as these are not reviewed under the most rigorous scrutiny possible, government favoritism and censorship masquerading as 'neutrality' will soon cascade to other forms of mass communication," the Georgetown Center said in a statement Friday. "The critical distinction is that telephone services are used for private, person-to-person communications whereas broadband providers are engaged in the mass dissemination of public speech." Read more here and here.
Georgetown Center Slams FCC's Theft of Internet Services
Counts ways FCC has dismissed evidence, overstated threats -- In their amicus brief, the center's scholars/economists argue that the FCC overstates the benefits of Title II based on the groundless assumption that ISPs are gatekeepers bent on harming consumers and content providers, and that the FCC at the same time underplays -make that "dismisses"- the "real threats to innovation, investment, and output from Title II regulation." The Center also claims the FCC has dismissed the benefits of the past two decades of light-touch regulation. The court has scheduled Dec. 4 for oral argument, which means a decision is likely sometime in first or second quarter 2016. The court last year remanded the FCC's 2010 net neutrality rules due to insufficient legal justification. John Eggerton has more.
Auctions: Another Embarrassing Offering From the FCC
House commerce chairman Fred Upton (MI) and communications and technology subcommittee chairman Greg Walden (OR): "Three years ago, Congress put its faith in the FCC to tackle a monumental task: an incentive auction that benefits broadcasters, wireless broadband, and consumers. It appears that faith was misplaced. As Chairman Wheeler derides critics as focusing on the worst-case scenario, our concern is far more troubling - that the plan adopted today loses sight of producing the best-case scenario." The statement from the House also called into question the FCC's raison d'etre; "It's hard to see how the FCC's approach could be in the public interest when it unnecessarily shortchanges everyone involved - including taxpayers."
There was equally harsh criticism from the NAB: "The FCC undercuts the notion of a voluntary auction; low-balls payments to TV stations interested in exiting the business; establishes a haphazard variable band plan destined for decades of interference disputes; guarantees maximum loss of LPTV and translator service for millions of Americans in exchange for a handout of free spectrum with no public interest obligations to multibillion dollar companies; and jeopardizes lifeline news coverage of local TV stations in some of America's largest cities," said Dennis Wharton, the National Association of Broadcasters executive vice president of communications. Read more here and here.
Epic Petition to FCC: Stop Invading American's Privacy
Mass Retention of Telecommunications Data Implicates Substantial Privacy and Associational Freedom Interests. Section 42.6 requires telecommunication carriers to retain sensitive information on all of their customers, including the name, address, and telephone number of the caller, telephone number called, date, time and length of the call. These telephone records not only show who consumers call and when, but can also reveal intimate details about consumers' daily lives. These records reveal close contacts and associates, and confidential relationships between individuals and their attorneys, doctors, or elected representatives. This practice should end. Read more
FCC Has a Long History of Burying Evidence Adverse to its Stated Positions
US Court of Appeal, District of Columbia, April, 2008 -- "Indeed, in Kent County we ordered the agency to supplement the administrative record even though there was no indication 'that the agency [had] purposefully excluded the documents.' 963 F.2d at 396. Here, by contrast, there is little doubt that the Commission deliberately attempted to exclude from the record evidence adverse to its position.... Under the circumstances, the Commission can point to no authority allowing it to hide from the public... studies that may contain contrary evidence, inconvenient qualifications, or relevant explanations of the methodology employed." APA section 706 requires the court to set aside arbitrary and capricious agency action after reviewing "the whole record," 5 U.S.C. section 706, and the "whole record" in this case includes the complete content of the staff reports the Commission relied upon.
Read the ruling from the US Court of Appeals.
FCC U$F Fraud and Abu$e - Million$ Wa$ted
Commissioner Ajit Pai has blown the whistle on Fraud and Abuse in the FCC's so-called 'Lifeline' (phone welfare) program. Phones are being given away to people who don't qualify. No consideration is given to eligibility. Millions of your tax dollars are wasted every year. Not satisfied with mismanaging millions, now the FCC wants to expand the program to cover welfare for broadband! Watch the CBS4 undercover sting.
Supreme Court Signals Problems for Recent FCC Decisions
The court's opinion in Michigan v. EPA brings major regulatory decisions under new scrutiny. The first on the cutting board could be the FCC's attempt to regulate the Internet in the name of neutrality. According to MI vs. EPA and URF vs. EPA, "agencies must operate within the bounds of reasonable interpretation" and "where there is an absence of a reasoned approach, Orders are held to be illegal." Agencies must also show that the costs of enforcement have been considered, as contrasted with the cost benefit of doing nothing at all.
In Christopher vs. SmithKline Beecham, the court ruled, "no notice, no deference" meaning, unless there is a clearly articulated warning, based on a reasonable interpretation of a statute, an agency cannot impose a penalty on a regulatee. The Supreme Court's decision in Christopher is representative of a trend in past terms, in which federal agencies suffered a string of defeats for what amounted to overreaching. For example, there will be no deference to an agency interpretation that is a "post hoc rationalization" or "what amounts to an unfair surprise" which has been a hallmark of EB decisions over the past few years. In Talk America Inc. v. Michigan Bell Telephone Co., 2011 BL 157472, 79 U.S.L.W. 4442 (U.S. 2011), Justice Scalia remarked that it is "contrary to fundamental principles of separation of powers to permit the person who promulgates a law to interpret it as well." The FCC has set itself up as rulemaker, interpreter, investigator, and judge, with no separation at all. All agency decisions are subject to scrutiny in the courts, especially forfeitures, assuming the US Attorney accepts an FCC enforcement case in an attempt to collect a judgment, but in the absence of such acceptance, a regulatee could be subject to sanction, absent due process. To be sure, no money would be collected, but the FCC might attempt to use an uncollected forfeiture in future administrative proceeedings, even though they had failed to prove the matter in court, thus confounding due process, 5th and 14th Amendment protections, and the intent of Congress.
In Federal Communications Commission v. Fox Television Stations Inc., 2012 BL 153978, 80 U.S.L.W. 4494 (U.S. 2012), the Supreme Court found that the Federal Communications Commission violated due process by changing its policy without fair notice. In United States v. Home Concrete & Supply LLC, 2012 BL 101632, 80 U.S.L.W. 4347 (U.S. 2012), the court rebuffed the Internal Revenue Service's effort to read a regulation in a manner different from the court's interpretation of identical regulatory language 54 years ago. And in a third case, the court unanimously rejected the Environmental Protection Agency's attempt to insulate from judicial review a "compliance order" that, in the government's own view, exposed the regulated persons to double daily penalties in any future enforcement action. See Sackett v. Environmental Protection Agency, 2012 BL 67234, 80 U.S.L.W. 4240 (U.S. 2012).
FCC Levels the Field
Assumptions
The present staffing level of the FCC Enforcement Bureau (EB) is 98, while the new one is 54, for a net loss of 44 positions. The 98 number includes no vacancies, so this is a loss of 44 employees, most of whom are long time employees. The anticipated date for the reorganization is February, 2016. Item #19 in the FCC Order states: "IT IS FURTHER ORDERED THAT the Commission implement a nationwide outplacement effort to assist all displaced employees to find positions in the public or private sectors, including other vacancies within the Commission for which they are qualified and selected."
See the Before and After Plan which includes names, titles, and locations.
A new GS-15 Enforcement Bureau 'Field Director' office has been created with a yet-to-be-named GS-15 E.E. as 'Field Director.' This position will replace all of the director positions in the former Northeast, South Central, and Western Regions, which will be renamed as Regions 1, 2, and 3. The Field Director will also supervise the Equipment Development Group. Cutting the redundant 'District Director' and 'Regional Director' supervisory positions from the field structure will save millions, with an expected improvement in priorities, productivity, communication, and understanding of the mission. Two of the lawyers in the Field Director's office are already named and they do not presently work in DC, so it's unclear where these positions will be located.
According to the "after' plan, Mike Moffitt might be 'right-sized' from a GS-15 (0301) Regional Director position down to a GS-14 (0855), Senior Engineer position, assuming he's selected and assuming he accepts the vacant position, which would be a two tier demotion and a loss of one pay grade.
For the rationale behind these cuts, consider the consultant's report that field staff handle approximately 1 case, per month, per employee and confusion about the mission and the numerous redundancies in supervisory roles. In many cases, according to unpublished interviews from the OIG and consultants, some supervisors simply rubber-stamped their employees' work and then headed out for a three martini lunch, or the equivalent, disappearing for the rest of the day. Salaries, pensions, space, and overhead are enormous expenses in the field structure, as you'll see in the examples below:
George (Mike) Moffitt, ELECTRONICS ENGINEER for the Federal Communications Commission, Park Ridge, Illinois, Salary: $157,100
*Laura L. Smith, GENERAL ATTORNEY for the Federal Communications Commission, Gettysburg, Pennsylvania, Salary: $141,660
*David C. Dombrowski, ELECTRONICS ENGINEER for the Federal Communications Commission, Langhorne, Pennsylvania, Salary: $147,059
Source: governmentsalarydata.com
*These employees are not listed in the "after" reorganization plan for the EB, which was released to the FCC's union. Laura Smith does not have an electrical engineering background, which would preclude her from being a Field Agent, pursuant to item #19 in the new order. However, if qualified and selected, she could apply for the Attorney Advisor vacancy in the new office of the Field Director. Staffers at the FCC are often redeployed to other bureaus and positions. For reference, the salaries listed are about $20,000 less than the halfway point for a senior software engineer at Google, but the workload is much less. As noted in numerous published FCC OIG reports, some FCC employees spend hours downloading porn, chatting on the phone, selling Mary Kay, coming in late (or not at all) and leaving early, and/or staring out the window, day after day. These problems occur year after year.
In the reshuffled deck of 54 EB employees, many of the displaced who are already on site will vie for vacancies. There is 1 vacancy for a GS-15 Field Director; there are 6 vacancies in the Equipment Development Group; 2 vacancies in Columbia, MD; 1 vacancy in Boston; 2 vacancies for the Tiger Team in Columbia; 2 vacancies in New York; 1 vacancy in Atlanta; 1 vacancy in Chicago; 3 vacancies in Atlanta; 3 vacancies in Miami; 1 vacancy in New orleans; 2 vacancies in Los Angeles; 1 vacancy in Dallas; 2 vacancies for Denver's Tiger Team, and; 1 vacancy in San Francisco. Total vacancies: 29. Three 'bargaining unit' staffers will be demoted from GS-14 down to GS-13. Two are in Miami and one in Los Angeles. Save pay provisions will limit the salary impact, but the salary impact will be real and negative for these individuals.The Equipment Development Group in Powder Springs, GA shrinks from 10 positions to 7. This is the part of EB that develops new equipment and special built equipment.
It's unclear if FCC will pay the relocation costs of any of the 44+ employees who are affected by these changes. Since Ronald Reagan's era, the FCC has not budgeted for staff relocations, although Chairman Wheeler has said FCC will help affected employees find jobs outside the FCC. As mentioned, the Order states the Commission will implement a nationwide outplacement effort to assist all displaced employees to find positions in the public or private sectors, including other vacancies within the Commission for which they are qualified and selected.
Despite promises to Congress and the National Association of Broadcasters (NAB) to tackle the growing pirate problem in NY/NJ and Miami especially, there is no evidence this will happen, or that efforts will be sustainable. Pirates aren't limited to a 40 hour work week and suppression requires overtime funding and travel. In addition, the entire 24/7 operation of the FCC has moved from EB to to the Public Safety Homeland Security Bureau (PSHSB), which, historically is interested in safety-related issues, not pirates.
According to the FCC Order:
The Field will embark on a program to update its equipment and employee skillset to address the likely issues that will accompany new and expanded uses of spectrum. This program will include the expanded use of remotely operated monitoring equipment to supplement field staff, as well as the identification and use of portable devices capable of assessing interference issues in bands expected to experience heavy spectrum use (best guess: wireless). See the FCC's rationalization for the 'modernization' which is based on fiscal realities and a 300 page consultant's report, which is yet to be seen by Congress, assuming it actually exists...
Paragraph 15 of the Order states all Enforcement Bureau field agents shall have electrical engineering backgrounds. Focusing on academic credentials for such work is naive because the skill set for solving spectrum enforcement problems in the field has little to do with most EE curriculums. Yes, Virginia Tech, UCSD, NYU, and UT-Austin have programs in wireless technology, but the vast majority of EE graduates have virtually no exposure to wireless technology, focusing on issues such as software engineering and semiconductor design and manufacturing. This, coupled with the totally inept technical staff recruiting FCC has had for the past decade, means less capability in new hires, not more. FCC should hire capable people who can work with the public and other stakeholders, people who understand the FCC's arcane rules and procedures, and the Consitution, and emerging technologies, instead of focusing on meaningless credentials.
Will FCC pay for relocations related to this downsizing? For example, will staffers whose jobs are eliminated be eligible for FCC paid relocation to another office with a vacancy, or to Washington if they're selected for a job there? The 2016 FCC Budget has only $55k for Budget Object Classification Codes 22, "Transportation of Things" and there is no indication of any budget for the subcategory "2210 Change of Official Station". There are reports that those who keep their jobs as a result of this "modernization" may still face reclassification to a lower GS grade and thus a loss in net pay. (Federal personnel law prevents a salary decrease for a few years, but denies raises in such cases.)
Insecure Networks at the FCC
Millions of private citizen's social security numbers and other personal information, like names, addresses, phone numbers, and email addresses, are stored on FCC servers. "Our information technology (IT) systems are an invitation to hack", according to the Tom Wheeler at the FCC. It's unclear how much money the FCC will (again) spend on cybersecurity. Apparently the latest 10 million dollar "upgrade" two years ago, was completely ineffective in locking down the public's data. Ironically, or perhaps hypocritically, the FCC is now fining companies for failure to secure private information, when the FCC's servers are themselves, completely insecure.
Finally, regarding HFDF: A recent FCC employment vacancy announcement implies satellite monitoring and enforcement functions are also moving to PSHSB. This is a common sense nod to the fact that public safety is, and should always be, job #1.
~ Thanks to Michael Marcus, Sc.D for his extremely insightful commentary.
Ex FCC Agent Hollingsworth - Canada Has a Big Problem - They're Hiding and They Don't Care
Discussing FCC attempts to work with Industry Canada about the notorious Fruitcake in Canada who often speaks with unidentified stations, and Donald Anderson (N4TAT), along with the latest NAL recipient David Tolassi (W4BHV), Hollingsworth said, "To put it bluntly it seems that Canada just doesn't care.... They have a person up in Canada that's been a big problem for this country and for the Canadians for years and years and years and they've done nothing about it. They just don't care. The things that that person says over the air would end up getting somebody in jail down here. The threats. He's threatened to kill half the Canadian government; they still don't care. We do work with Industry Canada. I was never able to successfully work with them in the amateur area because they just hide behind free speech and they just don't seem to care." Listen
Canadian al Qaida Northern Command -- Kill Entire CDN Government & 'Remodel' the White House
See the full discussion and listen to the recording
FCC Hates Handjobs, but Dildos and Anal Sex are A-OK
Although WDBJ recently received a very stiff $325,000 NAL from the FCC for an extremely brief, tiny, and unintentional retransmission depicting a handjob, the FCC is apparently just fine with an international discussion involving lengthy and graphic depictions of homosexual anal sex and the use of dildos on 14.313 MHz by Donald Anderson and the notorious alcoholic and pedophile, Karol Madera (also known as al Qaida Northern Command) during the afternoon hours of July 20, 2015, when children might be listening.
Under FCC rule 97.117, "Transmissions to a different country, where permitted, shall be limited to communications incidental to the purposes of the amateur service and to remarks of a personal character." While anal sex and the use of dildos is certainly personal, is this what Congress intended, and is the FCC enforcement bureau arbitrary and capricious, or just plain nonsensical? WDBJ said the FCC has been historically unable to articulate a discernible standard by which station operators can accurately predict what speech is prohibited. Speaking of 14.313 MHz; another serial jammer, alleged wife-beater, alcoholic, and drug addict, David J. Tolassi (W4BHV) was recently cited (again) by the FCC.
NAB, RTDNA to FCC: Rescind WDBJ's NAL
In March, the FCC announced its intent to fine WDBJ-TV $325,000 for airing a fleeting indecent image in a news story. If the FCC goes ahead with the enforcement action, it would be the largest indecent fine ever levied against a station for a single incident and the first broadcast indecency fine in seven years.

The National Association of Broadcasters and Radio and Television Digital News Association argue that not only is the fine punitive and legally indefensible, it also is an "affront to the First Amendment values that undoubtedly will further chill speech," guaranteed under the first amdendment, the groups said in comments filed with the FCC. Read more
First ISP Fine Heralds Internet Big Chill
"The FCC's net neutrality rules impose the same old rate regulation on ISPs with the 'modern' addition of unfair procedures and discriminatory enforcement... I doubt ISPs are laughing at the irony in the FCC's decision to propose a record-setting fine for an alleged lack of transparency without the agency providing any guidance regarding the reasonableness of the underlying practice. Regulatory uncertainty about the lawfulness of reducing data speeds for heavy data users started chilling ISP behavior in the marketplace even before the FCC acted. Fear of unpredictable government sanctions and liability in court won't motivate investors to bet billions on next generation Internet infrastructure. It will create pervasive uncertainty that results in the same stagnation that slowed progress on the telephone network in the 20th Century." Read more
Do You Trust the FCC With Your SSN? Here's Why You Shouldn't
FCC Chairman Tom Wheeler and Congress agree the FCC's IT systems are old, broken, and full of security holes. According the Government Accounting Office, the FCC was hacked in 2013 (to say nothing of the OPM hack this year) and the FCC's 10 million dollar "fix" was completely ineffective. So, again, do you really want to trust the FCC with you name, address, and social security numbers, not to mention your credit card or ATM card data for license renewal? Read more from our favorite attorneys at Fletcher Heald and Hildreth, oh, and about that OPM hack, "I'm sure you will probably obfuscate, [but] when will the American people know ... the extent of this penetration?" Sen. John McCain, R-Arizona, asked OPM Director Katherine Archuleta at a hearing on Capitol Hill two weeks ago.
Highlights of FCC Process Reform Hearing July 28, 2015
Congress: "The recent history of FCC activities demonstrates that although FCC leadership has publicly committed to process reform on more than one occasion, process failings persist. The incidents of process failures - some stark, others subtle - have been vetted before the Committee in prior hearings, have been the subject of letters from this Committee to the Chairman, and have been the subject of numerous press reports. The abuses of delegated authority, lack of transparency and accountability in agency decision-making and other agency processes (such as agency restructuring and budgeting), and agency overreach, paints an unsettling picture. In particular, the FCC's ludicrous system of approving rules and then not letting anyone actually see them for 30 days - something that drew particular ire with the net neutrality rules - will be under scrutiny." Congressman Walden: "Things might actually be getting worse at the Commission and that's disappointing to say the least."
With No Staff & No Money, FCC Unable to Fulfill Prime Directive, Nevermind Autocratic Fantasies
"Our Government, has no power except that granted it by the people. It is time to check and reverse the growth of government which shows signs of having grown beyond the consent of the governed. In this present crisis, government is not the solution to our problem; government is the problem." ~ President Ronald Reagan at his Inauguration in 1981
Chairman Wheeler: "We are currently at the lowest number of full time employees in modern history for the agency."
The following is a list of issues for which, by design, the FCC has neither the money nor the expertise to effectively tackle: Interference; Auctions; Privacy; Designated Entities; the Telephone Consumer Protection Act; the LifeLine program; the AM Revitalization Proceeding; Lack of Transparency and Communication, Failed Process; Legal Challenges to 'Grey Area' NALs; Net Neutrality, and; Ignored and Shut Out Stakeholders - including two Commissioners.
Travis LeBlanc: Many Enforcement Bureau Cases Fall Into Legal Grey Area
"The FCC's new approach will discourage cooperation and self-disclosure, and it's going to force regulatees to beef up on litigation instead of compliance with the rules," one industry lobbyist said. "Ultimately, that's a poor use of resources for taxpayers, and it will lead to a worse result for consumers." LeBlanc acknowledged that many of his cases fall into a legal gray area, "...when you're in enforcement, you're almost always working in a gray area." (National Journal)
Congress Asks: Are FCC Cases Legal or Not?
Congressman Long: 'Commissioner Pai... the Chief of the enforcement bureau has acknowledged that many of his cases fall into a legal grey area... can you explain your concern?'
FCC Commissioner Pai: 'Many of the FCC's initiatives betray the basic principle of due process and that's just not the FCC rules; that's going back to King John signing the Magna Carta at Runnymede... With respect to certain notices of apparent liability the agency has issued, it's a quest for headlines first, and we'll figure out the law later, if at all. But that's precisely backwards... we should look at the facts, look at the law, and if there's a gap in the law, let's change it... but we can't sanction somebody for violating a rule they have no reason to know, or don't know exists.' Watch
AT&T Calls FCC's NAL Bogus...
...and unconstitutional, indefensible, coercive, and contrary to evidence on the record. Read more
Bend Over: New Taxes Coming
Although the FCC promised the people of the United States that 'net neutrality' would not herald any new taxes, it appears it's never that easy. Read more
FCC Rules Hurt Rural America
According to Congress and stakeholders in rural America, the FCC's new rules and outdated, unclear, and unduly heavy regulations have already stymied investment, delayed deployment, and increased costs across the board. Read more
FCC Steals FTC Authority - FTC to FCC: You Don't Know What You're Doing
"The Commission's nullification of the FTC's jurisdiction and entry into the sphere of consumer online privacy raises significant and immediate concerns... the FCC has made clear through the Enforcement Advisory of its intention to scrutinize practices and hold broadband internet service providers liable, notwithstanding the lack of established rules." Which seems to be a polite way of saying "You don't know what you're doing." Read more
Boston Globe - Eliminate Net Neutrality Rules and Seek Congressional Solution
"Congress can protect both net neutrality and investment by overruling the FCC and passing new legislation that prevents Internet service providers from slowing down competitors' traffic or blocking access to websites, while scaling back some of the overreaching utility-style components of the FCC rules. Lawmakers on both sides of the aisle who strongly support open Internet protections should work with their colleagues to pass bipartisan net neutrality legislation this year." Read more
Ex Commissioner McDowell: FCC Order Poorly Reasoned - Likely to be Tossed by Courts
"Fortunately for consumers - and for the future of the Internet - a solution still exists. Instead of what will unquestionably be years of legal battles, as we've seen following the last two attempted net neutrality regulations, Congress can jump start the bipartisan spirit that shaped Internet policy since its inception. Draft bills have already been written and the potential for a deal exists. The regulate-the-Net crowd is starting to realize that the FCC order was so poorly reasoned that it is likely to be tossed out by the courts - making a perfect hat trick of defeats for the FCC on this issue."
"As I've said in the past, having close contact, and even coordination, between the FCC and congressional offices is a way of doing business that is as old as the Commission itself. In fact, such communications are a necessary and proper part of being an FCC commissioner or chairman. The FCC is a creature of Congress and is overseen and funded by those directly-elected representatives of the American people. What should raise eyebrows is when the FCC pulls up the drawbridge and crouches in the bunker to avoid, or work around, Congress."
With legislative intervention, the FCC can be protected by legislative certainty and bask in the glow of achieving statesmanlike bipartisan consensus. The future of the Internet, and America's digital economy, deserve no less. It's time to consider a different path - one that leads through Congress - to end the net-neutrality fiasco. Although the legislative process can be perilous, Congress can provide all sides with a way out."
Robert McDowell served as a commissioner of the FCC from 2006-2013. He is a partner at Wiley Rein LLP and a senior advisor to Berenson & Co. Read more
Backdoor Rate Regulation
According to Commissioner Pai, we're seeing rate regulation via conditions imposed on the ATT/DIRECTV merger, directly after the FCC promised they would not be in the business of rate regulation.Read more
Pirate Radio - FCC Priority or Not?
Congressman Chris Collins and all Congress persons in NY and NJ asked the Enforcement Bureau to fight pirate radio. Collins says the EB response is disappointing; essentially, 'We'll get to it when we can, maybe someday, if we've got nothing else to do, as interest allows, if we have time, assuming we can afford it.' Acknowledging the FCC's lack of authority in playing whac-a-mole with pirates, Tom Wheeler said, "We could use some additional authority, so we could have some teeth." Collins and other Congress persons previously requested for relief from pirates in the NY/NJ area. Read their request
Collins was frustrated by the FCC's lack of action in resolving issues related to its primary function, while at the same time appearing to focus more on moving, reorganizing, auctioning, privacy, telephone and broadband welfare, and attempting to take control control over the Internet. With regard to the internet takeover, Collins said: "The Internet's success is directly connected to the freedom in which it can be accessed and the lack of restrictive government regulations impinging its innovation. I will fight hard against this dangerous classification and work to ensure the Internet remains free and open."
FCC's Order Puts Patients at Risk
Telemedicine could transform the medical experience, but the FCC's recent Open Internet rules threaten to bring this healthcare revolution to a stuttering halt. The future of the connected patient and doctor should not be held captive by outdated network classifications and regulatory sleight of hand. The FCC's erection of legal ghettos and its segregation of services into arbitrary buckets undermines the very notion of information technology and does not serve to advance medical innovations. The FCC should not be a gatekeeper of the future of telemedicine. We need Congress to act, not only to clarify the role of the FCC, but to provide a much-needed modernized legal framework for Internet innovation. Read more
House and Senate Plan to Cut FCC Funding
The Senate appropriations committee has followed the House appropriations committee in using its power over budgeting to neuter the FCC's net neutrality order. The Senate FY16 financial service and general government appropriations bill contains a provision that prohibits the FCC from regulating Internet rates. The House financial services appropriations bill prohibits the FCC from spending any funds to enforce the net neutrality order. The Senate bill budgets $320 million for the FCC, which is $20 million below the 2015 budget. As previously reported, the FCC has already decided to close 11 field offices and to rid itself of 'do-nothing' staffers at the Enforcement Bureau. Read more
Tom Whatley Discusses Domestic Terrorism & Illegal Immigration
FCC Commissioner airs CBS Welfare Phone Fraud Investigation to Audible Gasps
The program is funded by a universal service tax every cellphone user pays each month. It has grown from an $800 million program in 2009 to a $1.6 billion program today. "It covers people who don't need help," said FCC Commissioner Pai. "There are no safeguards to make sure the dollars are spent wisely. In the middle of Denver at a tent this fraudulent activity was going on. If it can happen in Denver it can happen anywhere." Read more
FCC Finalizes Field Fiasco
July 15, 2015 -- The EB's deputy chief, Bill Davenport, was recently quoted as saying that the $21 million it allegedly costs to keep FCC field offices and employees and equipment at current levels is too expensive and field office staffers have "too little work to do." In response to a contractor study, the Federal Communications Commission adopted a plan to modernize field operations within its Enforcement Bureau. It includes the closing of 11 offices. "The proposal will improve efficiency, better position the agency to do effective radio interference detection and resolution and meet other enforcement needs, and save millions of dollars annually after implementation is complete," it stated. Six compliance specialists will lose their jobs as a result. Field offices will continue in Atlanta, Boston, Chicago, Columbia (MD), Dallas, Denver, Honolulu, Los Angeles, Miami, New Orleans, New York, Portland (OR), and San Francisco. The remaining offices will close, including: Anchorage, Buffalo, Detroit, Houston, Kansas City, Norfolk, Philadelphia (Langhorne), San Diego, San Juan, Seattle, and Tampa. Read more
FCC Field Offices: Broken Communications & Frayed Relationships
Commissioners Pai and O'Rielly approved the plan to cut 11 offices but pointed to challenges ahead, including working on "frayed" relationships between headquarters and agents in the field. Pai said agents cited "inadequate communications" and management concerns with the home office.... "They do not believe that their work is valued," Pai said. "In the months ahead, we must do what we can to repair this breach and give field agents the support that they need to carry out their important mission." Read more
Society of Broadcast Engineers to FCC: Reorganization: Neither Fair Nor Transparent...
"No contact has been made by the contractor, however, with any representative of SBE or of the broadcast engineering community to the present time. You testified on April 30, 2015 before the House Subcommittee on Communications and Technology of the Committee on Energy and Commerce that "thanks to the commission's process reforms, the agency is more efficient, more transparent and more engaged with the public." The means by which the Enforcement Bureau reorganization proposal was developed, however, was anything but transparent ... Read more
Bitter Internal Divisiveness Delays FCC Auction
Bowing to pressure from Congress, Tom Wheeler, the chairman of the Federal Communications Commission, won't be holding a hotly anticipated vote this month on rules for a looming, high-stakes auction of wireless airwaves. The delay gums up one of the most important issues in tech and highlights the prescient comments of both Commissioners Pai and O'Rielly, regarding the negative effects of agency intervention on future investment. The decision to postpone came just hours before the FCC was due to consider the auction rules on Thursday, and the sudden delay is another reminder of how bitterly divided the agency has become... The agency's commissioners and staff have repeatedly clashed on net neutrality, on Internet subsidies, on transparency, on enforcement, on reorganization, on delegated authority, and on the Communications Act, and on other topics... Read more
Coming Soon -- July 28, 2015 -- House Announces Hearing on Continued Oversight of the FCC
Regarding the July 28th hearing continuing the subcommittee's oversight of the FCC, Congressman and Chair of the Committee, Greg Walden said, "We look forward to hearing from Chairman Wheeler and Commissioner Pai on recent developments at the FCC, their plans for the fall, and what efforts the FCC has made to fix its broken processes."
Congressional Leaders Warn FCC
In a letter sent to FCC's Tom Wheeler, Congressional committee chairmen warned Wheeler that departing from standard commission procedures could threaten the future of spectrum policy. Congressional leaders have repeatedly called Wheeler and the FCC on the carpet for departing from standard commission procedures and have advanced a bill in committee to reform FCC process. "Here we go again. Like a broken record, we have heard the FCC leadership pledge repeatedly to improve process while continuing to find new ways to keep the public in the dark... When the commission acts to withhold data until the eleventh hour, it is going out of its way to keep the public and relevant stakeholders -- including the commissioners -- out of the process." Read more
ACA Sues FCC - "Arbitrary, Capricious, Abuse of Discretion"
The ACA says in its court papers that the decision to limit companies to one call to a reassigned number was "arbitrary, capricious, and an abuse of discretion, and does not comport with a caller's constitutional right of due process." Republican FCC Commissioner Ajit Pai, voted against the recent order, warned in a written dissent issued on Friday that the rules will make it easier for class-action lawyers to "abuse" the Telephone Consumer Protection Act. "Rather than focus on the illegal telemarketing calls that consumers really care about, the [FCC's] Order twists the law's words even further to target useful communications between legitimate businesses and their customers," Pai stated. "This Order will make abuse of the TCPA much, much easier. And the primary beneficiaries will be trial lawyers, not the American public." Read more
Commissioner and Congresswoman Join in Asking FCC to end Waste, Fraud, & Abuse
July 12, 2015 -- The Federal Communications Commission's low-income program, known formally as Lifeline, has spent billions of ratepayer dollars. Because of significant waste, fraud and abuse in the program, a good portion of that funding has been misspent. More than once, the Government Accountability Office (GAO) has criticized the FCC for failing to control the program, evaluate its flaws, and improve its accountability. Not surprisingly, a number of people have called upon the FCC to end the program altogether. Given the significant problems with Lifeline, it is not surprising that many have lost confidence in the program. Rather than rush headlong down a path that will increase spending and multiply concerns about waste, fraud and abuse, the FCC needs to reevaluate the program and address its serious flaws. This means, at a minimum, an overall cap and better targeting. -- By FCC Commissioner Mike O'Rielly and Rep. Marsha Blackburn. Read more
Regulatory Activism and the New Socialist Utopia
The internet is an entertainment hub, a news source, the world's largest library, a communication device, a soapbox, and a conduit for information. This great explosion in tech, industry, and accessibility didn't happen because of government 'oversight' ... It emerged due to government's inability to regulate, tax, and control the 20th century's most influential contribution to human discourse. And now the FCC will get their bureaucratic hands on it in an effort to 'fix' an injustice that doesn't exist. The FCC will impose upon an already-unfettered marketplace regulations originally written for telephone companies in the 1930s. There's a good reason our home phone service has remained unchanged while the interwebs have become an exponentially growing marketplace of ideas and innovation. Far from being "progressive", this administrations is dedicated to a 1930's model of centralized power and restricted free-market advancement ... All in the name of preventing non-existent abuse. The term 'Progressive' is almost as misleading as the term 'Net Neutrality'. Read more
How Uncle Tom Wastes Your Tax Money
Today, collecting taxes from wireless bills creates an $8.5 billion fund, which, in theory the FCC distributes to develop broadband service in rural America and to connect schools and libraries. A third part of the USF, subsidizes wireless service for poor people who can't afford to pay their cell phone bills. The Lifeline plan has a $2 billion annual price tag. The American people did not vote for the plan.
In the wake of a 2012 corruption scandal, instances of Lifeline fraud emerged. In fact, the Obamaphone plan has emerged as one of the FCC's most embarassing money-pits and such a vast source of waste, fraud, and abuse that Congress recently voted to increase funding for the FCC's Office of the Inspector General. According to a 2013 report in the Wall Street Journal, 41 percent of the 6 million Lifeline subscribers enrolled in five cell phone plans could not produce documents to verify their eligibility. In fact, many didn't even bother to respond to requests from the FCC to do so.
Former Democratic Senator Rick Boucher's 'Internet Innovation Alliance' suggested to the FCC that Lifeline become a user-directed subsidy, similar to food stamps -- let the consumer decide what kind of Internet to spend the subsidy on. Poor people would receive a benefit card, which would be topped up with the $9/month that they already receive for discount phone service. Subscribers could choose how they spend that money, either continuing to receive discounted phone service or instead spending it on broadband. This 'welfare for the Internet' will be merged with 'welfare for cellphone service' and the whole mess will continue to be mis-managed by the FCC. The latest socialist expansion in the form of redistribution of wealth is brought to you by Tom Wheeler's 3/5 'progressive' majority at the FCC, over the furious protests of Commissioners Pai and O'Rielly, and the Congressional Oversight Committee who have recently placed a number of band-aids on the grievous wounds of fiscal irresponsibility at the FCC.
ObamaPhone Becomes ObamaNet
As of June 18, 2015, the FCC's universal service fund, also known as a 2 billion dollar redistribution of wealth and services, will now fund cellphones and broadband. Instead of expanding the program, Commissioner Pai adovocated cost reform. "We must implement meaningful reforms to restore fiscal responsibility," he said. "We must root out waste, fraud, and abuse. We must target lifeline funding on the people who actually need it and we must ensure the dollars coming from hard-working Americans' phone bills each and every month are wisely spent." Pai called for a set, fixed cap on the budget for Lifeline to contain spending.
"Unfortunately," Pai concluded, "this document does not reflect these priorities and that is disappointing." Commissioner Michael O'Rielly also dissented from the FCC's proposal, connecting it to an opportunity for the FCC to start taxing the internet. O'Rielly, like Pai, focused primarily on the lack of a clearly defined, limited budget on the proposal. About the back-and-forth on proposed budget numbers, O'Rielly compared it "to my wife setting a budget and excluding food, shoes, and entertainment. That," he added, "is not a budget."
O'Rielly repeatedly referred to frustrations with the FCC's procedures and processes -- a common theme with the commissioner, who has expressed the same frustration with many other procedural votes.... Read more
Orwellian Control of Radio, TV, Telephone, and the Internet
"It's little wonder that Reporters Without Borders' recent survey of world press freedom ranked the United States 46th, below even that of Botswana and Romania -- and only one position above Haiti," Judicial Watch President Tom Fitton said.
As of last November, the FCC was actively studying editorial decisions in the newsroom. Why? "The FCC now says it has killed the study," Tom Fitton continued. "But we are skeptical -- especially since we now have had to sue in federal court to get information on this issue."
Fitton added, "This FCC scandal also echoes the Obama IRS abuse, which illegally targeted groups and individuals based on thier [conservative] political philosophy. The FCC, which is charged with making sure regulated media companies obey the law, refuses to obey the Freedom of Information Act and tell the American people why it wanted to interrogate newsmen and monitor the blogs of everyday citizens." The recently passed Net Neutralization plan with its 300+ pages of vague rules, brings the spectre of chilling effects back into sharp focus for anyone who's concerned about preservation of the First Amendment. Read more
Net Neutralization Rules Allow FCC to Make-it-Up as They go Along....
The New York Times notes the FCC is "set to decide what is acceptable on a case-by-case basis. The regulations include a subjective catch-all provision, requiring 'just and reasonable' conduct. What counts as 'just and reasonable' will, naturally, be up to the whims of the FCC."
"Only a control-obsessed, fascist government would argue an "Enforcement Bureau" is necessary for the free flow of information. Governments citing fairness, safety and efficiency are just an appetizer as they snuff out that pesky individual freedom you so enjoy. Standing by is always a smug, self-satisfied socialist hiding in the shadows." Read more
FCC's 'Central Committee' Approach Harkens back to Methods Employed by USSR
The Wall Street Journal's L. Gordon Crovist argued that had these rules been in effect years ago they "could have strangled Alta Vista and Excite, the early leaders in search, and relegated Google to a Stanford student project. Newspapers could have lobbied against Craigslist for depriving them of classified advertising."
"Even though many of us like to complain about the cost and quality of broadband access, we would pay an estimated $2,400 a month based on the charges in 1995 of $10 for the first five hours of time and $3 an hour after that. These cost savings occurred because cable companies took over the backbone of the Internet from telephone companies." A spokesman for a consortium of companies opposed to the FCC takeover said, "Now the FCC wants to regulate the net the same way they regulate the phone companies. Do you understand your phone bill? We don't."
Former FCC commissioner Robert McDowell wrote in USA Today that he thinks the policies will hurt the Internet. "History teaches us that utility-style regulation raises costs to consumers, reduces investment and innovation and creates uncertainty." Read more
North Carolina Sues FCC
"The FCC unlawfully inserted itself between the State and the State's political subdivisions. North Carolina, as a sovereign State, is aggrieved and seeks relief on the grounds that the Order: (1) is contrary to the United States Constitution; (2) is in excess of the Federal Communication Commission's authority; (3) is arbitrary, capricious, and an abuse of discretion within the meaning of the Administrative Procedure Act; and (4) is otherwise contrary to law." Read more
WDBJ Opposes $325,000 FCC Forfeiture for 2.7 Seconds of 'Offensive' Video
Attorney's for the TV station say the FCC acted on 'incorrect factual premises, misapplied standardless standards, employed unconstitutionally sound arguments, abandoned previously restrained policies, and essentially, in conclusion -- a three second hand-job ain't worth $300k, no matter how you look at it.'
This NAL is unintentionally humorous, and some say, wildly hypocritical, considering the FCC Enforcement Bureau employees who've been caught 'red-handed' watching and downloading (up to 8 hours a week) porn at work, on the tax-payers dime, while pleading boredom, and that they don't have enough to do. The National Association of Broadcasters stated, "NAB is disappointed with today's remarkably punitive indecency fine proposed against WDBJ. Schurz Communications apologized for the fleeting image, which was clearly unintended. This unprecedented fine against a family-owned broadcaster with a demonstrated commitment to serving communities is wholly unwarranted." Read more
DOJ to FCC -- Please Reserve Spectrum for the Little Guys and P.S., Hurry Up!
The DoJ has asked the FCC to reserve 600MHz auction spectrum for carriers other than Verizon and AT&T. "The Department urges the Commission to give considerable weight in determining the amount of spectrum included in the reserve to protecting and promoting competition. The Department also recognizes that many considerations may affect the timing of the incentive auction. However, consumers will derive the greatest benefit from holding the auction as soon as practicable. Build-out does not happen overnight. Carriers must engage in years of planning and development before spectrum acquired at auction can be put to use to benefit consumers." Read more
Thirteen Democratic Senators Take Issue With Rule Proposed by FCC
The Senators told FCC Chairman Wheeler that they believe the FCC's misapplied intention to implement Section 111 of the STELA Reauthorization Act of 2014 is contrary to the intentions of Congress and that the proposed rule may increase costs for basic cable services while reducing the number of channels available. Read more
ALJ to EB - Unenlightening; Pointless; Insulting; Abandons Responsibility to Represent Public Interest
Recently: In the case of Gameshow Network v. Cablevision, the FCC's Administrative Law Judge, Richard Sippel exhibited not inconsiderable dismay and disdain regarding the FCC Enforcement Bureau's conduct in the case:
"No participant or onlooker to this proceeding has been enlightened by the Bureau's self-evident observation," he wrote, (a glitch on the FCC's website made the order unviewable until Thurs, May 27). "By making such a pointless submission after 5 days of careful review, the Bureau disrespects the Presiding Judge, insults his willingness to grant extensions for the benefit of receiving its carefully considered comment, and worst of all, abandons its responsibility to represent the public interest," Sippel concluded.
"The Bureau apologizes to the Presiding Judge for any misunderstanding this may have caused, and it was not the Bureau's intention to disrespect the Presiding Judge in any manner," the new comments filed by LeBlanc said. Read more
Changes in Latitudes, Changes in Attitudes
July 9, 2014 - Katherine Winfree has joined the Bureau as Chief of Staff. "She brings solid prosecutorial leadership to our enforcement team ..."
January 22, 2015 - Katherine Winfree has left the Bureau as Chief of Staff. "She joins Manatt, Phelps & Phillips as Partner in the firm's State Attorneys General practice group. Ms. Winfree provides strategic counseling and defense to clients facing individual state, multistate and federal investigations and legal actions, as well as internal corporate investigations." Read more
FCC Commissioner - FCC's Lifeline is Rife with Waste, Fraud, Abuse
The tax rate on Americans' phone bills has increased by 83 percent over the past seven years. So where does your hard-earned money go? Unfortunately, Lifeline, known in some circles as the "Obamaphone" program, is plagued by waste, fraud, and abuse. Now the FCC wants to expand lifeline to include subsidies for broadband Internet -- even though Lifeline is now the only FCC program of its kind without a cap on spending. Read more
FCC Commissioner -- FCC Enforcement Bureau is Kafkaesque
"[I]t is an essential part of the justice dispensed here that you should be condemned not only in innocence but also in ignorance." -- Franz Kafka, The Trial (1925)
June 18, 2015 -- A government "rule" suddenly revised, yet retroactive. Inconvenient facts ignored. A practice sanctioned after years of implied approval. A penalty conjured from the executioner's imagination. These and more Kafkaesque badges adorn this Notice of Apparent Liability (NAL)... Because the Commission simply ignores many of the disclosures made; because it refuses to grapple with the few disclosures it does acknowledge; because it essentially rewrites the rule ex post; because it disregards specific language in that order and related precedents that condone conduct; because the penalty assessed is drawn out of thin air; in short, because the justice dispensed here condemns a private actor not only in innocence but also in ignorance, I dissent.
~Thank you Mr. Commissioner; we couldn't have said it better ourselves!Read more
"The FCC Has Reached a New Low" According to FCC Commissioner O'Rielly
Commissioner O'Rielly slammed the commission for its lack of compromise and politicization regarding 'Lifeline' which is a form of broadband welfare, colloquially known as Obamaphone and Obamanet.
Chairman Wheeler and President Obama would like to enlarge "lifeline" to add broadband rebates (Obamanet) to the cellphone subsidies known as "Obamaphone" because, in their view, broadband is a basic "right," like freedom of speech and freedom of religion, and taxpayers should pay for those who can't afford it. Lifeline is paid for by the Universal Service Fee, which is being passed to consumers through the USF fee on phone bills. Lifeline has been abused to the tune of up to one billion dollars in fraudulent charges. The FCC is responsible for 'regulating' this tremendously wasteful program.
O'Rielly equated many of the 3/2 votes in this administration's Commission as a form of tyranny. "There's little appetite for compromise.... They're happy to accommodate you if you agree with them... At what point does the majority become tyranny?" O'Rielly also hinted that he had been lied to during recent discussions. He said he'd been "misled" during the process leading up to the final item. O'Rielly also slammed the finished product: "After 14 months, it is clear the process brought out a new low I've never seen in politics or policy making. This is one of the most slanted documents I've ever seen," he said. Commissioner Ajit Pai agreed. "It's become a case of Charlie Brown, Lucy and the football." Typically, we're told 'no,' this is a red line," Pai said.
Congress Votes to Cripple FCC's Net Neutralization Odor
"The majority in Congress moved forward with their efforts to cripple the Federal Communications Commission's open Internet rules. Using its budgeting power, the House appropriations committee voted 30-20 on a broad funding bill that contains a provision which prohibits the FCC from spending money to enforce the open internet rules until the pending court challenges are resolved. The bill gives the FCC $73 million less than what the agency asked for, and requires the FCC to publicly release the text of its proposed rules 21 days ahead of a vote."
Katy Bachman at katyonthehill.com
FCC Enforcement: Questionable Priorities & Wrong Directions
Remarks of Michael O'Rielly, Commissioner, Federal Communications Commission:
"Distinguished guests and members of the FCBA Bar, I am before you today to discuss the state of FCC enforcement. My central premise is that the Commission's overall approach to enforcement has gone astray over the last many months. In fact, let me go a step further to report that it has entered a territory that can only be described as dangerously misguided."
"As we examine the recent activities of the Enforcement Bureau, it is clear that these time-tested functions are now secondary to other goals. Specifically, the Commission seems more intent on obtaining newspaper headlines trumpeting accusations and eye-popping fines. In other words, self-aggrandizing fanfare is a major objective and often appears to be more important than case foundation, correcting the violation or establishing a reasonable deterrent. I like to refer to this as sizzle over substance."
"Without a settlement, a company is subjected to the whims of the Enforcement Bureau's Notice of Apparent Liability process. For larger companies, especially, the Commission's general approach has been to call each and every alleged violation "egregious." And in making such a determination, the Commission has been upwardly adjusting the proposed penalty beyond the original intent of the statute. In one case, a proposed penalty was increased by 400 percent -- I repeat, 400 percent -- based on an upward adjustment of 100 percent for each of four factors, including the violator's ability to pay. We have also seen situations where the penalty amount is not based on the actual violation, but instead seems to be picked out of a hat, loosely based on a company's revenues."
"To equate financial penalties with success is like measuring the safety of a major city by the number of people arrested in a given year. There is a clear pattern of enforcement actions being used as a means to stretch and reinterpret the Commission's rules to expand its authority and ensnare more participants in the communications marketplace. The Bureau has also been bestowed, by certain actions of the Commission majority and against my wishes, with immeasurable and unconstrained delegated authority over areas once governed by thoughtful policymakers, not ex post facto law enforcement activity. The combination of the Bureau's wayward approach with vast new powers should be of concern to everyone, even left-leaning activists."
Making policy decisions - especially based on vague rules regarding complex matters - is not and should not be within the purview of the enforcement arm of FCC. It's like asking TSA agents to also set immigration policy in addition to continuing their mastery of the airport screening process."
"Add to this the unwillingness - either by intentional direction or hubris - to work with and engage the subject-matter experts in the Wireline, Wireless, Media and International Bureaus and you set the stage for umpteen miscues and flawed outcomes. And this isn't some unsubstantiated charge: I have done due diligence by repeatedly seeking out the level of involvement by these other bureaus to gauge their knowledge of the Enforcement Bureau's activities, whether net neutrality-related or otherwise. The answers have always indicated a polite familiarity of the Enforcement Bureau's work but at no time did it seem to rise to actual involvement by other bureaus in shaping the outcomes. In other words, they generally knew what was going on but had no ability to shape the direction or ultimate outcome of an item."
Commissioner O'Rielly went on to discuss "many obvious flaws" with the Enforcement Bureau's "reasoning and underlying jurisdictional arguments." Read more
FCC Commissioner O'Rielly -- FCC Enforcement Bureau is Dangerously Misguided
June 11, 2015 - FCC commissioner Michael O'Rielly lit into the FCC's Enforcement Bureau in a speech to the Federal Communications Bar Association in Washington, calling the FCC's enforcement regime "dangerously misguided."
"The Commission seems more intent on obtaining newspaper headlines trumpeting accusations and eye-popping fines," he said according to a copy of his speech. "In other words, self-aggrandizing fanfare is a major objective and often appears to be more important than case foundation, correcting the violation or establishing a reasonable deterrent."
"I recently heard from a couple of parties that were potentially subject to enforcement actions," he said, naming no names. "Having the good sense to try to discuss their issues with the Enforcement Bureau, each was told that any potential settlement would require an admission of guilt. To make the situation more outrageous, the Bureau indicated that there was little room to negotiate; it was a take it or leave it offer rather than the beginning of a process to come to a settlement position. Suffice it to say, no agreements were reached in these circumstances."
He also said the FCC seemed to be gauging enforcement success by how many dollars were involved. He said the measure should be whether regulatees are complying with the rules. "To equate financial penalties with success is like measuring the safety of a major city by the number of people arrested in a given year," he said.
An FCC spokesperson declined comment. Read more.
RF Cafe Laments Extralegal, Strong-Arm Tactics by Incompetent FCC Bureaucrats
An award winning RF Engineer has written two articles at the well known website, RF Cafe, about extra-legal, strong-arm tactics utilized by incompetent bureaucrats at the FCC. Some of the soon to be redundant members of the FCC enforcement bureau may wish to take advantage of the video resume tutorials and capabilities available at RF Cafe.
According to the article, an email to an amateur operator regarding "a perfectly legal transmission" was misrepresented by the FCC as a "warning for interference." Next, in a series of colossal errors, omissions, and misrepresentations, the FCC went on to assess an enormous forfeiture, without ever properly issuing a notice of apparent liability, according to the controlling statute. The law [USC 47 503(b)(4)] states that no forfeiture shall be proposed unless and until a notice of apparent liability is sent via certified mail to the licensee's address of record, and the licensee is allowed time to respond to the allegations, following receipt of the required notice.
According to the article at RF Cafe, the FCC never accomplished these simple tasks, despite the fact that the licensee's address of record is plainly printed on the license document which is in the FCC's possession and which is stored in the FCC's own universal licensing system (ULS) database. The FCC failed to issue the required notice according to law, and the FCC failed to consider evidence provided by the licensee, and by witnesses, including the FBI; local police; a publicly owned and operated security camera, and; at least 30 persons who could have demonstrated that the licensee was miles away from the inspected premises on the morning when violations were alleged by the FCC.
Notwithstanding the licensee's documented evidence, which, according to the article, was completely ignored by incompetent bureaucrats in favor of their own unsubstantiated, conclusory, and insufficient evidence, the FCC published their forfeiture order, regardless of the rule of law. It is well established that no individual can be ordered by the government to pay civil damages except in strict accordance with well-established and clearly defined laws and procedures. RF Cafe has now argued, twice, that no branch of government is above the law, and no public official may act arbitrarily or unilaterally outside the law.
Fortunately, numerous complaints were made to Congress and to the FCC Office of the Inspector General, and thanks to House and Senate oversight of the FCC, the American people will see much needed changes in the training, equipment, personnel, distribution, and structure of the FCC Enforcement Bureau.
Government Funding Tied to Net Neutralization Outcome
Congress has published draft legislation stating that no government funds will be available from the U.S. Treasury, for a variety of actions (including enforcement of federal forfeitures) from October 1, 2015 until September 30, 2016, until a final disposition on the FCC's net neutering plan (in all 3 of the following cases) is handed down by the courts:
None of the funds made available by this Act may be used to implement, administer, or enforce the Report and Order on Remand, Declaratory Ruling, and Order in the matter of protecting and promoting the open Internet, adopted by the Federal Communications Commission on February 26, 2015 (FCC 15-24), until the first date on which there has been a final disposition (including the exhaustion of or expiration of the time for any appeals) of all of the following civil actions:
(1) Alamo Broadband Inc. v. Federal Communications Commission, et al., No. 15-60201, pending June 9, 2015 (3:11 p.m.) in the United States Court of Appeals for the Fifth Circuit as of the date of the enactment of this Act.
(2) United States Telecom Assoc. v. Federal Communications Commission, et al., No. 15-1063, pending in the United States Court of Appeals for the District of Columbia Circuit as of the date of the enactment of this Act.
(3) CenturyLink v. Federal Communications Commission, No. 15-1099, pending in the United States Court of Appeals for the District of Columbia Circuit as of the date of the enactment of this Act.
Bill Highlights:
Federal Communications Commission (FCC) - The bill contains $315 million for the FCC - a cut of $25 million below the fiscal year 2015 enacted level and $73 million below the FCC's request.
Internal Revenue Service (IRS) - Included in the bill is $10.1 billion for the IRS - a cut of $838 million below the fiscal year 2015 enacted level and $2.8 billion below the President's budget request. This will hold the agency's budget below the sequester level and below the fiscal year 2004 level. This funding level is sufficient for the IRS to perform its core duties, but will require the agency to streamline and better prioritize its budget. In addition, due to the IRS' inappropriate actions in targeting groups based on political beliefs, as well as its previous improper use of taxpayer funds, the bill censors the IRS in several significant ways.
Congress Achieves Win/Win Proposal on FCC Field Office Closures
The following offices will close: Buffalo, Detroit, Houston, Norfolk, Philadelphia, San Diego, Seattle, and Tampa.
Offices to remain open: Hawaii, Anchorage, Alaska (contract staff ), Portland, New York City, Columbia, Maryland, Chicago, Atlanta, Miami, Los Angeles, San Francisco, Denver, Boston, and New Orleans. Kansas City's field office will close, but KC will get a "rotation" of FCC field staff visiting once a month for several days.
We fully support the necessity of closing unnecessary FCC field offices. The proposed office closings and reduction in force will allow for replacement of antiquated equipment, replacement of do-nothing management positions, and better training for the remaining engineers in the enforcement bureau. Millions of dollars can be saved yearly and with proper management and ~selective culling under the latest plan, the proposed changes could benefit all Americans.
FCC Chairman Wheeler Responds to Representative's Concerns About Field Office Closures
Field overhead costs exceed double that of FCC HQ. Manager to staff ratio is severely askew - on average there's one field manager for just four employees, and sometimes it's worse than that. There's excessive office space in nearly all field locations, ranging between 4,000 and 381 square feet per employee, as opposed to 180 square feet at FCC HQ after FY2017. There are more mobile direction-finding (MDF) vehicles than field agents. Each vehicle costs approximately $100,000 in equipment and labor. Some offices have two (or more) MDF vehicles per agent. RF interference complaints should be the field offices' top priority, yet many field offices only receive one such complaint per agent every month. Less than half of the field offices' total personnel time is spent on spectrum enforcement, and a much smaller percentage is spent on critical spectrum enforcement of public safety interference.
The reduction in force and closure of offices is part of Wheeler's broader plan to modernize and update the FCC. Deputy enforcement bureau chief, William Davenport, echoed Wheeler's concerns recently, saying, "The current model of the field is broken. It was built around a regulatory model that simply doesn't exist anymore. Modern enforcement is about responding to wireless interference complaints, not conducting random inspections of broadcast facilities."
'Unnecessary, Inappropriate' Rules Beget Costly Litigation -- Funded by Taxpayers
U.S. Representatives Fred Upton of Michigan and Greg Walden of Oregon, both Republicans, in an e-mailed statement Tuesday said the "inevitable legal wrangling has begun."
"These filings are the first in what will undoubtedly be years of challenges spurred by the FCC's unnecessary and inappropriate regulation of the Internet," said Upton and Walden, whose legislative responsibilities include oversight of the FCC. The FCC's "order has glaring legal flaws that are guaranteed to mire the agency in litigation for a long time," according to FCC Commissioner Ajit Pai, who, along with Michael O'Rielly, voted against the rules.
Trade associations that filed suit against the FCC include the American Cable Association (ACA); the Cellular Telephone Industries Association (CTIA); the United States Telecom Association (USTelecom); and the National Cable and Telecommunications Association (NCTA). The American Cable Association (ACA) is a trade association representing 850 small-to-mid-sized cable companies that provide broadband service to around seven million cable subscribers.
Cellular Telephone Industries Association, the trade association that represents AT&T, Verizon, Sprint, T-Mobile and more than 100 other telecommunications companies, similarly expressed support for net neutrality while denouncing the FCC decision for imposing onerous and illegal regulations and bypassing Congress.
The National Cable and Telecommunications Association (NCTA), which includes cable giants Comcast, Time Warner Cable and Cablevision, has hired former U.S. Solicitor General Theodore Olson and his assistant, Miguel Estrada, to lead their charge against the FCC. Olson said the FCC did not have the legal standing to enforce its net neutrality rules.
Those filing suit said the FCC's net neutrality ruling is "1) in excess of the Commission's authority; 2) arbitrary, capricious, and an abuse of discretion...; 3) contrary to Constitutional right under the Due Process of the Fifth Amendment; and 4) otherwise contrary to law."
Meanwhile - Stay Tuned for Internet Taxes
Federal Communications Commission (FCC) Chairman Tom Wheeler acknowledged in congressional testimony today that an Internet tax--which he had previously said would not be imposed--could be imposed in the future.
FCC Field Office Closures Will Allow For Selective Culling
Bureau Chief Travis LeBlanc and Deputy Chief William Davenport defend field office closures and the reduction in force at the FCC. LeBlanc said the bureau has implemented a system to focus on high-priority items. He said that previously, a case was opened each time a complaint was filed, even though in many cases the FCC had no plans to pursue an action. He said the bureau is not just focusing "on technical violations" by parties, but instead, prioritizing whether actions impact goals such as competition or network security. - Read more
Deputy Chief William Davenport echoed the point of view of the consultants hired by the FCC to study the issue: The $21 million it costs to keep 28 field offices open with 108 employees using "out-of-date equipment" is too expensive and field office staffers have too little work to do, said William Davenport, deputy chief of the FCC Enforcement Bureau, telling the National Public Safety Telecommunications Council why the agency is considering a controversial proposal to make sharp cuts in the number of field offices and agents in the field. The cost of the field offices also increases each year, he said. Problems have been worsened by an inefficient management structure, with too many managers per inspector, Davenport said. "Our field agents have complained about this for years," he said. "On average there is one manager for every four employees. Some offices have a one-to-one ratio or even worse. The current model of the field is broken," he said. "It was built around a regulatory model that simply doesn't exist anymore. Modern enforcement is about responding to wireless interference complaints, not conducting random inspections of broadcast facilities." - Read more
Imminent Unemployment Causes FCC Field Engineers to Air FCC's Dirty Laundry
An anonymous FCC field engineer called his bosses "morons" and proclaimed the Washington bureaucrats never consulted with the field on a major issue (LightSquared) before the FCC. He or she blames Travis LeBlanc for the closures, reporting that LeBlanc wants to fire field engineers so the FCC can hire more lawyers in Washington, DC, ostensibly to work on Internet court cases, which are cropping up like toadstools after a heavy rain:
"This field office closure is not a modernization of the field. That would imply the proposed structure would meet the needs of today better than the current structure. That is not the case. This proposal is simply a way for Travis LeBlanc to fire engineers in the field in order to pay for additional attorneys in Washington, DC. This proposition has about as much possibility of working out as light squared. This proposal was thought up by the same morons in Washington that believed light squared might actually work. Any of the FCC field engineers knew enough to realize the whole light squared idea had no chance of becoming a reality. I know this because I'm an FCC field engineer and we all knew enough about RFI to know it would not work. Too bad the buracrats in DC never consulted with any of us." -Anonymous FCC Field Engineer - Read more
However, FCC District Director Dave Dombrowski in Langhorne, PA, acknowledged problems with the current interference enforcement model. Without identifying himself as an FCC District Director, Dombrowski commented on an idea by Commissioner O'Rielly involving private causes of action - outside of the FCC process - for eliminating and deterring pirate radio. Dombrowski asserted: "FCC agents have a difficult time identifying the actual operator of the stations and they often solicit the help of the landlord to get the station off the air." Dombrowski also claimed 'violators do not pay FCC fines... and... police are often reluctant to assist in the big cities because it is a low priority for them and requires significant resources to identify the operator....' Essentially, Dombrowski contradicted O'Rielly. The gravamen of his argument was, police agencies see FCC issues as a low priority, and violators don't pay FCC fines, so why would violators pay judgments in private causes of action? Dombrowski argued, "Violators do not pay FCC fines so it would be likely that the operator would not pay a broadcaster if sued."
Former SCARE, Riley Hollingsworth, and retired former District Director Walt Gerner are also against the proposed closures. Hollingsworth indicated, "Unless this Tiger Team is composed of Batmen or a Superman, there's no way it can accomplish anything but staying several steps BEHIND whatever problem it is working on." Read more
NPSTC board member Dave Buchanan, a former 911 official in San Bernardino County, California, said the way that the FCC has handled the proposed closing of the field offices has caused the agency problems. "You're a service organization, whether you realize it or not," he said. "We had to hear about it, not after the fact, but it wasn't presented to us... It's better to come and explain things to people." Buchanan said many public safety officials have stopped calling the FCC when they have a complaint because it has taken too long for the commission to respond. - Read more
Regarding LightSquared: On September 15, 2011, Representative Michael Turner (R-OH) asked the United States House Oversight and Government Committee to investigate LightSquared under the premise that the Federal Communications Commission waived a rule for LightSquared because Harbinger Capital's Philip Falcone had made sizable campaign contributions to President Barack Obama. Reportedly, President Barack Obama himself invested $90,000 in LightSquared in 2005 but sold his stock for a $13,000 loss 8 months later. Air Force General William Shelton claimed in a closed congressional hearing that he had received political pressure to soften his testimony regarding the negative effects of LightSquared technology. On March 26, 2015, LightSquared Inc. won court permission to exit bankruptcy, ending a three-year ordeal that pitted the wireless venture against its biggest creditor: Dish Network Corp. Chairman Charles Ergen. As recently as March 17, a government lawyer told bankruptcy judge, Shelley Chapman that the Federal Communications Commission still can't predict whether it will approve use of the spectrum. - Read more
FCC's Warrantless Searches -- Ripe for Court Challenge
The FCC claims it derives its warrantless search power from the Communications Act of 1934, though the constitutionality of the claim has gone untested in the courts. That's largely because the FCC had little to do with average citizens for most of the last 75 years, when home transmitters were largely reserved to ham-radio operators and CB-radio aficionados. But in 2015, nearly every household in the United States has multiple devices that use radio waves which fall under the FCC's purview, making the commission's claimed authority ripe for a court challenge.
"It is a major stretch beyond case law to assert that authority with respect to a private home, which is at the heart of the Fourth Amendment's protection against unreasonable search and seizure," says Electronic Frontier Foundation lawyer Lee Tien. "When it is a private home... the idea they could just go in is honestly quite bizarre."
George Washington University professor Orin Kerr, a constitutional law expert, also questions the legalilty of the policy. "The Supreme Court has said that the government can't make warrantless entries into homes for administrative inspections," Kerr said, refering to a 1967 Supreme Court ruling that housing inspectors needed warrants to force their way into private residences. The FCC's online FAQ doesn't explain how the agency gets around that ruling, Kerr adds." Read more
Oversight and Government Reform Committee Probes Lack of Transparency
According to the committee, the hearing will explore delays, backlogs, excessive redactions, and other problems with requests for documents from federal agencies under FOIA. A second session on June 3 will include witnesses from federal agencies, but that list has not been made public. Read more
FCC Proposes New 'Broadband Welfare' Scheme
"The FCC is dodging the obvious: expanding Lifeline means new broadband taxes and higher taxes overall on telecom services," said Berin Szoka, president of TechFreedom. "The FCC made broadband taxes inevitable when it reclassified broadband as a telecom service - it's just a question of the FCC's Joint Board finding the least awkward time to make it official." - Read more
Commissioner Pai - FCC Privacy Guidance Vague and Unenforceable
"What does this mean? What exactly do broadband providers have to do to comply with the law? I am an FCC commissioner and a lawyer, and I have no idea. Your guess is as good as mine. This 'guidance' casts far more shade than sunlight," Pai said. Without hard details, Pai warned it would create investment uncertainty in the markets. - Read more
At the FCC, Imaginary Rules Create New Possibilities for Increased Revenue
Commissioner O'Rielly commented in his dissent: "I am noticing a disturbing trend at the Commission where, in the absence of clear statutory authority, the Commission suddenly imbues an innocuous provision of the Act with tremendous significance in order to meet its policy outcome."
AND
In order to steer clear of violations, be sure to familiarize yourself with not just the letter of the law, but the whims of bureaucrats within the applicable controlling agency. Otherwise, you might find yourself in deep doodoo. I suppose I will have to be watching over my own shoulder from now on since I have dared to publically criticize the 'New' FCC... as usual it is the few self-serving employees who choose to exercise their bureaucratic powers to mercilessly harass citizens that give the institution a bad name. The unfortunate reality is that as time goes by, the government cares less and less about what the public thinks of it....
Old Toothless Tigers vs. Baby Toothless Tigers
Retired FCC District Director Walter Gernon and retired SCARE, Riley Hollingsworth agree: The Sky is Falling. Gernon lists the following as reasons not to close field offices and reduce the number of field agents: Loss of FCC presence nationwide; Only three offices west of the Mississippi; Slow response to all radio interference; No local direction finding experts; Reduced enforcement compliance with FCC rules; Increase in pirate radio transmissions...
Additionally, in the "so what else is new?" category, Gernon noted several other catastrophic scenarios that only a bloated, do-nothing, top-heavy, unresponsive, opaque, porn-watching, Avon selling, bureaucracy, using outdated equipment, could possibly address. Hollingsworth agreed with Gernon, writing, "Unless this Tiger Team is composed of Batmen or a Superman, there's no way it can accomplish anything but staying several steps BEHIND whatever problem it is working on." Read more
"Sheriff" ???; Authority ???; Paying attention ???; Consequences ??? Riley must not be able to sit down for fear all the lipstick will smudge off when he sits down on his couch. Riley's record: Not 1 "red-handed" jammer bust since Oct 18th, 1998... Now he has become a lackey for the ARRL... Any questions? (see K4ZDH thread on eHam for more about his record & the community perception of his "paying attention..." -K4RAF
"This type of thinking is why I don't belong to the ARRL... the constant complaining about rule violators from their members is like an old lady nagging... Change the frequency or turn off the radio! People need to be careful what they ask for, they might get it. Don't look to the government for answers to problems, otherwise ham radio will turn out like our economy, in the toilet!" -KI4SDY
Magna Carta: Eight Centuries of Liberty - Its Revolutionary Impact Still Resounds Today
June marks the 800th anniversary of Magna Carta, the 'Great Charter' that established the rule of law for the English-speaking world. Starting with Magna Carta, the defense of freedom is everyone's responsibility. Americans, like Britons, have inherited their freedoms from past generations and should not look to any external agent for their perpetuation. Government does not confer freedom; rather, we are born free, and the defense of liberty is your job and mine. As Thomas Jefferson put it, "The tree of liberty must be refreshed from time to time with the blood of patriots and tyrants." It is up to us to keep intact the freedoms we inherited from our parents and to pass them on securely to our children. Read More
Wall Street Journal - How the FCC Will Wreck the Internet
"Everyone who cares about investment and growth in the high-tech sector, as well as net-neutrality protections, should refuse to accept the FCC's flawed order as a fait accompli and demand that Congress find a better way." Read more
Lawsuits Solidify Against FCC's Net Neutralization Scheme
AT&T has said net neutrality rules "violate the terms of the Communications Act of 1934, as amended, and the First and Fifth Amendments to the US Constitution." The US Telecom Association, CITA - the Wireless Association, and Centurylink, Inc. are also filing lawsuits. USTelecom, the CTIA, and the NCTA all ask exactly the same thing, in exactly the same words. They ask for review of the Order on the grounds that "it is arbitrary, capricious, and an abuse of discretion within the meaning of the Administrative Procedure Act...; violates federal law, including, but not limited to, the Constitution, the Communications Act of 1934, as amended, and FCC regulations promulgated thereunder; conflicts with the notice-and-comment rule making requirements [of the US code]; and is otherwise contrary to law." Other ISPs plan to use the First and the Fifth Amendment for attacking the decision made by the FCC. When FCC Chairman Wheeler was asked about his plan to fight off the challengers, he said, "Not to lose. That's the short-term plan."
Congress Announces Bipartisan Victory for Due Process, Transparency, Predictability, & Accountability
"Due process and transparency are too important to simply give up on and I applaud the subcommittee's commitment to making meaningful improvements. My colleagues from both sides of the aisle have offered sensible reforms that will improve the function of the FCC in a significant way. Transparency and process are the foundation of public trust in the government and are critical to the legitimacy of law." - Chairman Fred Upton (R-MI).
"I am pleased that both Republicans and Democrats alike recognize the value of increased transparency at the commission and see a need for congressional action to improve the FCC's decision-making process." Chairman Greg Walden (R-OR).
Click here for more information
Chairman of the House Communications and Technology Subcommittee on FCC Failures:
FRUSTRATION WITH THE FCC
"I get my dander up when I think an agency is running amok. I just think you get better outcome on policy if you have a good process. Then at least people feel like they have an opportunity to make their case. Just some of things I've seen happen at the FCC, the way it's being managed right now, isn't as good as it could be." Chairman Greg Walden (R-OR).
FCC IS CLOSED AND OPAQUE
"I've about run out of patience, maybe it came through in my statement the other day. They are the professional agency, but they shouldn't be the legislative body and they're tilting too much that way. The FCC is so closed and so opaque."
FCC MUST IMPROVE PROCESS AND TRANSPARENCY
"We've moved from a position a year or two ago where the agency could do no wrong to [a recognition that] there are things we can do to improve the process. And you see that from members on both sides of the aisle coming forward with their ideas about how to make things more transparent..."
FCC IS UNCOOPERATIVE
"We're having difficulty getting the documentation from the FCC that underpins their decision making [to close 16 of 24 field offices]. They're not being very cooperative on that. They gave us four slides, but not the underlying documentation. [The FCC] is playing hide the law."
FCC NOT A WELL RUN AGENCY
"We have seen enough to know the FCC falls short of the standard for a well-run agency." "Transparency should not stop at the doors of the FCC," said House commerce ranking member Frank Pallone (D-N.J.)
FCC VIOLATES FREEDOM OF INFORMATION ACT AND PRIVACY ACT
"This is the public's right to know." This is how the public understands what's happening and not happening and your organization is redacting this information and it's wrong." - Jason Chaffetz (R-UT) In other cases, the FCC has failed to redact sensitive personal information, in violation of the APA and the Privacy Act.
PRIVACY RIGHTS IN FOCUS
Senator Rand Paul engaged in a Senate filibuster to prevent illegal surveillance of Americans' communications, as the FCC proceeds with its plan to take over the Internet, against the express wishes of the majority in Congress and two of its five Commissioners -- even though there's nothing wrong with the Internet. Meanwhile, a little known provision of the Communications Act allows the FCC to enter American's homes without a warrant, at any time of the day or night, ostensibly to 'inspect' their electronic equipment. This includes the government's ability to inspect cell phones, computer routers, cordless phones, laptop computers, tablets, and any other wireless device with a transmitter, including the key fob that sends a signal to unlock a car door. All this, under the rubric of the Communications Act, designed to regulate Ma Bell in 1934. Can you refuse entry? Sure you can, at a cost of $7,000, or more, if the FCC applies a vague 'upward departure' requesting even more money for your refusal to allow their warrantless entry. The FCC believes the authority derived from the Communications Act, supercedes the 4th Amendment to the United States Constitution. With all of the recent focus on privacy, the Supreme Court may have a different opinion.
Special Thanks to Katy Bachman katyonthehill.com
Witnesses at Congressional Hearing Hope to Cure FCC's Lack of Fairness, Predictability, and Transparency
The Committee opened with its statement, for the reason for the Hearing, stating, "Over the past three Congresses, both the Democratic and Republican members of the Subcommittee on Communications and Technology have voiced concern with the lack of predictable process and consistent transparency at the Federal Communications Commission." Many Americans believe the hearings amount to locking the barn door after the horse has gone. In other words, no attempt to repair the FCC is likely to work. There is too much ingrained arrogance, ineptitude, corruption, and laziness. The only real solution, according to many, including some in the Congress and the Senate, involves dismantling the agency entirely and beginning again with a smaller, more predictable, accountable, and transparent organization, with new rules, a new purpose, and new leadership.
Free State Foundation President, Randolph J. May testified about the lack of fairness, openness, and transparency at the FCC, stating, "The Commission's own process reform efforts have fallen far short of what needs to be done." Mr. May said rules should be reviewed every two years, and noted the fact that the FCC is subject to the minimum requirements of the Administrative Procedure Act, but they are empowered to exceed the minimum requirements. The Committee has identified actual process failures that merit further examination, according to Mr. May. "Indeed, during the past year or so, process failures appear to have increased," according to Mr. May.
Stuart M. Benjamin, Chair in Law and Associate Dean for Research at Duke Law, noted that ambiguous, arbitrary, and capricious rules and procedures invite lawsuits. Mr. Benjamin had several suggestions for rules changes which would allow for greater transparency and public comment. Mr. Benjamin also said, "All FCC actions should be subject to a cost/benefit analysis." Mr. Benjamin also said, "the Commission should rely on the most accurate and up to date information in making its decisions."
Robert McDowell, former Commissioner and Fellow at the Hudson Institute, testified about the need for reform, based on due process, accountability, fairness, and efficiency. "The bottom line on reform efforts, however, is that they should be based on the principles of sound due process, transparency, accountability, fairness and efficiency." McDowell also noted that the FCC must reform so that they can quickly adapt to changing technologies. Mr. McDowell said, at the end of the day, Orders have to be fair, open, transparent, and appealable, and "Lastly, I would be remiss if I did not reiterate my call for Congress to rewrite our country's creaky and antiquated communications laws. The 1934 Act will celebrate its 81st birthday next month and the 1996 Act is almost 20 years old. A lot has changed in just the last few weeks, let alone the last 81 years. We need to modernize our communications laws to reflect current market conditions and technologies."
FCC Gives Congress (Some) Info About Field Office Massacre
Are you interested in the PowerPoint presentation the FCC gave Congress about the FCC rationale for cutbacks in their field offices? See it here. Simply put, field offices and field agents are extremely expensive to maintain and their 'value added' to the FCC mission is not great when compared to the price of employees and the price of the real estate involved. According to various stakeholders, many field offices don't accomplish much, and time spent on interference resolution only averages about 40%, despite the fact that interference resolution is their reason for being.
Some offices had twice as many staff as needed, and many managers had only a few personnel to manage -- this is what we call the "All Hat, No Cattle" syndrome. Consider the fact that morale is terrible, agents pursue low value targets, and it costs $20 million dollars a year to support 24 field sites, and you get the picture. The average overhead for one field site is $400,000 and the total cost is an average of over $830,000 per site. Full time equivalent employees (FTE) cost the agency more than double the cost of staff at FCC HQ. The average field site has 4.5 FTE and many have 2 FTEs. For every 4 field employees, there's 1 manager. Currently, there are 74 trucks and 63 field agents, and (thankfully) the number of agents is soon to be drastically reduced. As Congressman Greg Walden said, it's time to sell some trucks!

Field offices are caught in outdated modes of enforcement. Each agent handles an average of 1 interference case every 5 weeks, or about 10, every year, which means the entire 'enfarcement burro' handles about 630 cases per year. Remember, many of these "cases" amount to a lack of paint on a tower, a burned out light bulb, an unlocked gate, an unmown lawn, a missing file, and other meaningful infractions, which are absolutely crucial to the orderly administration of the telecommunications industry.... ahem. Once again, that's 20 million bucks divided by 630 cases, for an average cost of $31,746 per case. If a licensee or pirate elects not to pay a forfeiture and decides to go to court instead, and then to the appellate court, (never mind the Supreme Court), even assuming the FCC can convince the DoJ to accept the case, just start adding zeros to the end of that sum.
How often does the FCC actually collect their ridiculously inflated forfeitures? That question should be easy to answer, but with the documented lack of openness, transparency, and accountability at the FCC, we had to dig for clues like Indiana Jones digs for buried treasure. The collection question was discussed fifteen years ago in a 2000 report from the Office of Inspector General, which audited the FCC's Civil Monetary Penalty Program. That assessment looked at all monetary forfeitures and found success in less than a quarter of them. Like the FCC's arcane and outdated rules, the word "success" is open to interpretation. Most fines in amateur radio are reduced, based on a documented inability to pay. Therefore, assuming someone agrees to pay something, a $10,000 fine might be settled for $500. Then again, it might not be settled at all.
What a way to run an agency; no wonder the country's broke!
The OIG report found a lack of coherent policy among the agency's bureaus on matters involving forfeitures, as well as institutional resistance from the Department of Justice to pursue such cases. According to the report, "The commission has not established an effective program for managing civil monetary penalty actions." Of course, we already knew that, and of course, not a damn thing has changed since the report was published, 15 years ago.
Planned cuts are expected to reduce the number of field agents from 63 to 33 individuals. The agency will help personnel find equivalent work. Coincidentally, my hubby overheard a McDonald's manager ask one of his employeees to change an overhead fluorescent light bulb, just this morning. Over 50% of field agents are of retirement age; please stay off those ladders boys! Management positions will be reduced from 21 to 5 individuals. A 'Tiger Team' will be based in Columbia, MD. They will be fed raw meat and trained to kill. Ok, I made that part up! Confidentially, though, entre nous, the FTE hours saved will go toward FTE hours to dysregulate the Internet.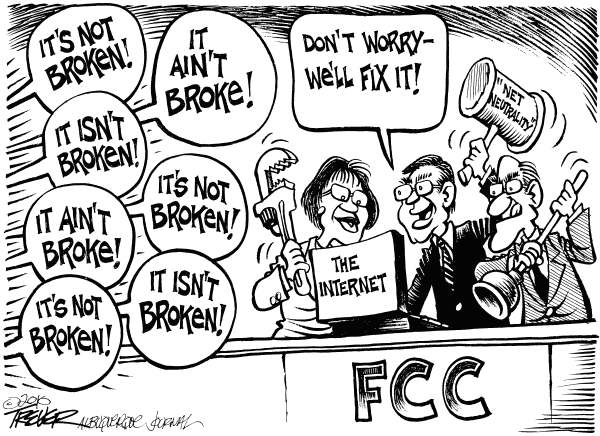 The FCC says savings from reductions-in-force will pay for better equipment than the old junk currently in use. Speaking of old junk, in an interview with National Journal's Technology Daily magazine, Congressman Fred Upton expressed shock at the condition of the FCC's equipment. "The agency is operating with fairly ancient equipment," said Rep. Fred Upton, R-Mich., who recently visited one of the agency's labs in Columbia, MD. "It was almost like going back to 10th-grade chemistry lab and finding it unchanged," said Upton, who graduated from high school in 1971. Congressman Upton made those remarks in 2001, and according to our sources inside the agency, "Not a damn thing has changed since then!"
Among other badly needed reforms, investigation and sanction processes will (finally) be standardized, along with increased training. Hopefully, this training will include the education of agents who are completely clueless about amateur radio, and the rules of evidence, and the Constitution, and... but don't hold your breath. The training is for "subject matters outside agent skillsets" which is a polite way of saying "right now, you have questions and they have blank stares." Google "Radio Shack Bankruptcy" for more details. Use of more portable equipment will be emphasized, because, as mentioned, the trucks contain old junk which was never designed to get the job done. To the uninitiated, the inside of a mobile digital direction finding (MDDF) vehicle might look fancy, but it's nothing more than an SUV, which contains a receiver, a short antenna, slaved to a compass rose, and a spectrum analyzer. All that and the equivalent of a first generation Garmin GPS system, which is accessible from a touch screen. Yawn.
The rest of the rationale for the FCC's field office massacre (FOM) is included at the link above. It's not a bad plan, except that we all know the FCC could fuck up a wet dream, and that's not likely to change anytime soon, or at all, ever. Take this direct quote from a field agent as an example. "I have no idea what HQ defines as success." That's okay buddy, no one else can figure it out either.
Thanks to Bev McIvor for information on this page.
Congress Questions FCC Conflict of Interest
House leaders want more information about the relationship between the FCC and an investment banker they hired to prepare economic models for the upcoming broadcast incentive auction. Lawrence Chu, former managing director of Greenhill & Co., left that company two months ago to volunteer at the FCC. Greenhill was retained by the FCC last fall and has provided two reports so far. The FCC estimated the value of Chu's work at $300,000.
Concerned about the apparent conflict of interest, and any apparent quid pro quo, House commerce chairman Fred Upton (R-MI.), subcommittee chairman Greg Walden (R-OR.), and subcommittee chairman Tim Murphy (R-PA.) wrote to the FCC Thursday seeking more information. "FCC decisions have sweeping impact on the economy well beyond the industries it regulates. We want to be sure that any work done by the commission, or on its behalf, is for the benefit of the American people." The FCC has until May 13 to respond.
Source: katyonthehill.com
The FCC is a Toothless Paper Tiger
Recently, the National Association of Broadcasters and the American Radio Relay League have discussed the FCC in unflattering and skeptical terms. The ARRL referred to the FCC's Enforcement Bureau as a toothless tiger, and the NAB referred to them as a fangless, paper tiger. These observations are not new or original. John Anderson of DIYmedia called the FCC a paper tiger ">in June... 2001 and again in 2006, and again in 2013. Golly, maybe we can convince John to write for this rag? Meanwhile, Mark Crosby, CEO of Enterprise Wireless Alliance (EWA) said, "I would like to believe these commitments and promises of better wireless days ahead resulting from these reorganization plans, but I am having difficulty drinking the Kool Aid."
Link 1, Link 2, Link 3, Link 4, Link 5, Link 6, Link 7, Link 8
Most stakeholders are skeptical of the FCC's ability to follow through with their Flying Tiger Team approach. Broadcaster's privately believe the field office closures are designed to transfer funds to more full time equivalent (FTE) employees to police the Internet. Broadcasters, wireless managers, and the ARRL clamor for more enforcement, but all of them have less than altruistic reasons for doing so. Broadcasters lose money when popular pirate shows siphon listeners, creating drops in ad revenue. Unruly amateur bands cause fear at the ARRL that amateurs won't be taken seriously, and that future DHS and other grant funds will be unavailable as a result.
The EWA's Crosby: "Not that long ago, [FCC] field staff too often had to say "We can't go investigate this interference matter, as we do not have the budget to put gas in our vehicles." Yet now the Commission is going to invest in new interference-mitigation technology, remote-monitoring capabilities, agent training, airline tickets, and rental cars for the Tiger Teams?"
As always, its easy to find the answers, when we follow the money. Speaking of money, it's widely known that AM and FM stations routinely pay NALs, because, in a cost/benefit analysis, paying the fine usually costs less than going to court. Because the FCC can hold up license renewals for years at a time, stations are ready to payola the inflated NAL's typically assessed for unlocked gates, chipping paint, broken light bulbs, late filing of paperwork, and other critically important issues.
However, when the FCC fails to follow its own rules, which is a daily occurrence, there are few, if any consequences. Congressman Greg Walden operated radio stations. Some of his applications were delayed by the FCC for ten years. In the interim, Walden's children grew up and went to college. He sold his stations. Then he ran for Congress. He and his fellow legislators would like to see the FCC become fair, open, accountable, and transparent.
Where amateur operators are concerned, income from the radio station isn't a factor, and for most "hams," radio is just a pastime. As a result, there's no incentive to pay ridiculously inflated NALs based on unsubstantiated evidence. NALs are only collected when, and if, amateurs elect to pay to pay them. Serial jammers and pirate stations have been making fools of the FCC for years. The ARRL's QST, and other ham trade magazines, publish FCC "actions" in a poorly reasoned effort to create deterrence. In fact, the opposite is true. Deterrence only takes place when there are concrete consequences. Meaningless warning letters, NALs, and forfeitures are not "enforcement" of any kind. They are, rather, evidence of a lack of enforcement.
The Emperor has no clothes. Apparently everyone realizes this, except QST, the other ham trade publications, and most of the participants in forums which discuss the obvious lack of amateur enforcement. The FCC can issue an NAL, which accomplishes nothing. The FCC can issue a forfeiture order, which accomplishes nothing. The FCC can obtain a court order, which accomplishes nothing. The FCC can take away a license, which is not the same as getting someone off the air. The FCC produces tons of meaningless paper, but, that paper should never be confused with enforcement.
A little known fact; the FCC has no power to collect the forfeitures they assess, and an FCC "order" is completely meaningless, unless and until the FCC proves its case in court. Each case is subject to a trial, and an appeal, and an attempt at certiorari before the Supreme Court, if there are Constitutional questions. The FCC and the licensee are equal parties before a federal judge and the FCC must prove its case with a preponderance of the evidence. Easier said than done.
Before the circus begins, the FCC's required, by law, to jump through a variety of legal and administrative hoops. This is called due process. Travis LeBlanc, the FCC's enforcement chief has taken an aggressive approach to enforcement, levying huge fines, but with flat budgets, outdated and decrepit equipment, and terrible morale in the enforcment bureau, it's an uphill battle. Big broadcasters and bigger Internet conglomerates have seen the changes inFCC tactics, and they're lawyering up. They have more money, more expertise, and more lawyers than the FCC has. Meanwhile, the enforcement bureau's being gutted from within, and the FCC's support in Congress and in the courts, is at an all time low.
Speaking to low priorities, amateur radio is increasingly the unwanted, adopted child of the FCC. Amateur cases are a drain on resources, and in times of budget cutbacks, there's very little incentive to police the behavior of ham operators. More than 50% of FCC field agents are eligible for retirement, the number of field offices will soon be cut by two thirds, and the writing is on the wall. In many areas, amateur radio already resembles the Citizen's Band of the 70's and 80's. How long will it be before the FCC allows Kelloggs to put a ham license coupon in every box of Fruit Loops?
How many amateurs actually pay those inflated forfeitures we read about in QST? Ask the FCC. Like our old friends at Radio Shack, you've got questions; they've got blank stares. More often than not, the DoJ never takes amateur cases because they're unwinnable. For example: Perhaps the forfeiture was all just a pack of lies in the first place. Maybe it was concocted by an inept field mouse, supported by a stoned, child porn addict, who was jerking off masturbating at the HFDF Center, or maybe the case was connected to an FCC Watch Officer who was drunk off his ass, inebriated, while jamming 14.313 MHz with music coming from an FM radio station.
These examples are by no means hyperbolic. See links 1 and 2 above. Many times, the FCC loses evidence, or; the evidence the FCC relied on was unsubstantiated, with insufficient evidentiary support, or; the FCC misinterpreted their own regulations, or; the FCC failed to maintain a proper chain of custody, or; there was illegal retaliation on the part of the FCC employee, or; there was a failure in a hundred other potential pitfalls in witness reliability, administrative procedures, statutes, regulations, and the FCC's arcane and ambiguous rules. Once again, it's all about due process.
Often, the 5 year statute of limitations expires before the DoJ is able to take the case to court. In essence, the DoJ tells the FCC, "We'd love to handle this, honestly, but we're swamped with, ahem, real crimes, and it's unlikely we can get to this very important matter within the next 4 years." Remember, it usually takes the FCC at least a year to follow through with due process concerns, like serving the NAL to the licensee's address of record, within a year of the time violations accrued, and affording the licensee a chance to respond, and then examining the response, and performing an in-depth investigation, applying reasoned interpretations, etc., etc., etc..
Listen, as U.S. Air Force Major, James Beauchamp explains the importance of ethics and the rules of evidence to Canadian military impostor, Karol Madera (VE7KFM). Madera lied, telling the Air Force Major that he was a lawyer. Madera wasn't admitted to the Law Society. Instead, he was turned away, like the lying, unfit, psychopath nearly everyone recognizes him to be. Madera appealed the Law Society's ruling, but The Chief Justice of British Columbia (and both of his colleagues on the panel) politely called Karol Madera a liar, which ended any hope of his becoming a lawyer. When Madera's not lying about being a lawyer, he's lying about being a commercial pilot, a jet jockey, an ADC to two Generals, a Naval Captain, being fluent in 5 languages, or a hundred other ridiculous lies. As usual, when the Air Force Major schooled Madera, VE7KFM's childish response to the truth, was slander, name-calling, obscenities, and jamming the airwaves, for the next half hour, in gross violation of international treaties.
As U.S. Air Force Major Beauchamp patiently explained to his dim-witted pupil, any violation of the Administrative Procedure Act, the Freedom of Information Act, the Privacy Act, the U.S. Constitution, common law torts, constitutional torts, negligence, failure to adhere to required elements of the U.S. Code, and the Code of Federal Regulations, and the whole circus is over before it starts.
In theory, what Beauchamp said was absolutely true, but the FCC can, and they often do, bluster and defame and publish false allegations until the cows come home. Then, the amateur radio forums, and QST, and hams ignorant of the law, hash and rehash the FCC's false allegations in an orgy of meaningless blather for the next 5 years. That's the real circus. Unfortunately, U.S. sovereign immunity prevents licensees from suing the FCC's rodeo clowns and keystone kops for defamation, but as far as money changing hands, and as far as real amateur radio enforcement is concerned, the FCC is not the place to look for that, and it never has been. Don't believe it? Tune into 14.313 and listen, any day, and every day.
Sometimes, when a licensee is actually guilty of violating the FCC's rules, the licensee will confess and a fraction of the amount initially assessed may appear in a consent decree. Jared Bruegman, aka "Jesse James" was assessed $10,000 for playing the banjo for hours at a time, for several years, on several different bands. His forfeiture was reduced to $500. It's unknown whether Jared ever paid off the amount owed. [ Maybe he'll write in and let us know. ] Of course, Bruegman didn't have a license, and the FCC was required to send him a warning before issuing a forfeiture. Mr. Bruegman is a non-licensee, and a non-applicant, who, under 47 U.S.C. section 503(b)(5) and 47 C.F.R. section 1.80(d), was entitled to receive a warning prior to the issuance of the forfeiture. The FCC failed to issue Bruegman a warning. What a surprise. If Jesse James had been able to research the rules, he would have known. However, the rules are arcane, and written in a language familiar to the attorneys for late 1800's railroad barons, for whom they were intended, rather than the plain language required by the Plain Writing Act and Mr. Obama's, Executive Order, number E.O. 12866. The FCC's complete lack of transparency regarding who pays what, and when, is another unknown mystery in the hilarious myth of amateur radio enforcement.

In the Glenn Baxter (K1MAN) case, the appeals court disallowed everything in the FCC's forfeiture, except what Baxter expressly admitted. Baxter admitted some incidental interference, and as the court put it, he "stiff-armed" the FCC when they asked for more information. He did it proudly and unabashedly. To him, it was worth the theoretical $3,000. With no formal legal training, Baxter reduced the amount of the NAL by more than 50% and he still hasn't paid a dime. Baxter completely ignored two previous NALs that were miscalculated, which then became stale, even before the FCC could convert them to forfeiture orders. More importantly, Baxter's still on the air. Is that enforcement, or a ten year circle jerk? You decide.

Bill Crowell, W6WBJ, is also still on the air, despite the fact that his renewal hearing has been stalled since 2010. His petition to disbar attorneys, and the judge in the case, is curiously whited out, which is not the same as being properly redacted pursuant to the Freedom of Information Act, is it? Maybe it's an error. Maybe it's not.

David Castle (WA9KJI) lost his license. Herb Schoenbaum (KV4FZ) lost his license. Both men got their licenses back. No forfeitures were paid.

David Tolassi (W4BHV) threatened to shoot an FCC enforcement official, and another licensee in the head, at the Dayton Hamvention. Then he threatened to blow up the Hamvention with a fertilizer bomb. Tolassi still has a license, despite multiple genuine warning letters, despite being retested, despite being taken off 20 meters for 3 years, despite being arrested and jailed for allegedly beating his wife while in a Klonopin and alcohol fueled rage. No NAL was assessed regarding the violent threats, despite FCC promises to get Tolassi off the air. Why? The FCC "lost the evidence...."

Todd Daugherty (N9OGL) solicited a hit man to kill two amateurs. He sent the FCC and Karol Madera an email notice of his plan to murder children and blow up fellow amateur's homes. Daugherty was charged with criminal harassment for threatening to blow up Consolidated Communications. Daugherty was then placed on house arrest for threatening his female (of course) probation officer. Then he threatened to interfere with air-to-air traffic. He was recently arrested for painting a target on his police chief's head. Charges were nol prossed, but could be reinstated. He's currently off the Internet. He still has an amateur license and there has been no NAL, despite multiple threats, arrests, and two genuine warning letters.

Michael D. Adams (AE4FB) a notorious drunk, drug addict, and pathological liar who threatened to light himself on fire in an attempt to extort the Enforcement Bureau into doing his bidding. Unfortunately, they didn't call his bet. Adams endorsed taking people out with a sniper rifle at the Dayton Hamvention. He concocted a shooting hoax with Karol Madera, and he interfered with ongoing communications, many times. Adams played music, and played his Shaman's drum over the air. Mike Adams, AE4FB, called Mr. Obama "a good Nigger who sucks rich white dick." There has been no enforcement activity in the Adams case.

George Arsics, (W2VB), an FCC HFDF Watch Officer, was reportedly found, by his peers, to be jamming 14.313 MHz with music from an FM radio station. However, there was no NAL and no consequences for Mr. Arsics where his amateur license was concerned. Perhaps the FCC was too embarassed to consequence an HFDF Watch Officer who they said was jamming 14.313 MHz. The FCC tried to fire Mr. Arsics, but he retained his job because the FCC failed to follow administrative procedures.

Speaking publicly, Mr. Arsics stated that the Enforcement Bureau often issued NAL's with unsubstantiated evidence. "If there was insufficient evidence to support the notice, I was directed by management personnel to send it to them and let them deny it. It would seem, the intent was to intimidate and harass." Arsics also charged inequitable and selective enforcement of the Commission's rules. "It was assumed that private citizens did not have access to the same legal resources that corporations did. Thus, private citizens, such as amateur radio operators, were more vulnerable to selective enforcement."

Shocking, isn't it? Arsics was an FCC employee, a Watch Officer, at the Powder Springs, Georgia, HFDF Center, and he was fired for jamming 14.313 MHz. In response, he stated, "The FCC was a cesspool of corruption where only money and egos mattered." Reading between the lines, many in Congress agree with Arsics.

The legislative intent of Congress is abundantly clear. Congress wants change. Congress wants fairness, openness, transparency, accountability, reasoned interpretations of FCC rules, strict adherence to laws, regulations, and processes, and the U.S. Constitution. Congress is only asking for every American's birthright. Whether they get it, or not, is another matter, of course.

Industry Canada's no better than the FCC when it comes to inequitable and selective enforcement. Rather than enforce rules on the books, IC merely did away with rules so that no enforcement was necessary. Jim Laursen, of IC, told Riley Hollingsworth, "ham radio is simply talk for the sake of talk." In essence, Laursen was saying, 'Who cares if some Fruitcake calls on al Qaida to murder American citizens?'

Karol Madera's been threatening Americans and inciting murder for years. IC yawns, continues to pass the buck, peddles reams of paper which few people ever read and which fewer even care about. That's the very essence of a bureaucratic agency. Industry Canada, like the FCC, is a form of federal welfare for hundreds of people who are marginally and notionally employed, but in reality, they often have nothing better to do than sit at their desks, staring out the window or watching porn, talking on the phone, texting friends, and generating pounds and pounds of useless paper.

In the case of the FCC HFDF employee downloading pornography in March, 2014, he or she wasn't the first by any means. He or she, spent many work hours, downloading and watching porn, and cruising Craigslist for paid sex trysts. FCC contractors watched porn with names like 'sweet 16' and 'hot young amateurs' while regular FCC employees also watched porn, or sold personal care products from their desks. Dozens of employees come in late and leave early, or the "work from home" with inadequate supervision, all on the taxpayer's dime.

The FCC's justification is, 'We bring in 13 times what we ask in return!' The FCC was referring to spectrum auctions, to which Congress replied, 'It's not your spectrum, and it's not your money, and in effect, please stop pissing on our legs and telling us it's raining.' No wonder the U.S. is operating with a staggering and growing debt for every man woman and child. Since 2012, the debt has increased at a cost of 2.2 billion per day. Each citizen's share of this debt is $56,651.07. And the FCC just asked for a raise. God forbid.

Let's face it, the majority of FCC employees are probably decent, hardworking employees, eager to serve the American people. On the other hand, one bad apple can spoil the whole bunch. If you've read the FCC's OIG reports, you know there are many bad apples, sitting in entrenched systems which are full of abuse, waste, and fraud, and these are disgraceful disservices to all Americans. The culture can only be changed by turning bad apples into slops for the hogs and charging management to make real changes, deep down, in the very ethos of the agency. That's where Congress comes in. Nothing else will get the job done, unless Congress liquidates the agency altogether, placing adequate performers under a different agency, like, the FTC for example. It could happen.

Congress has openly questioned the FCC's openness, fairness, and transparency. While discussing the closure of most of the FCC's field offices, FCC Chairman Wheeler told the Chair of the Committee, Congressman Greg Walden, "When you have more trucks than you have people...," Walden remarked, "I'd sell some trucks." ( at 55-56 minutes ) It's obvious that the leadership of this Congress has a great disdain for the way the FCC conducts its business, and that disdain has been clearly communicated with funding cuts, a barrage of questions, skeptical remarks, and multiple requests for documentation, concerning the FCC's questionable decision-making and opaque management practices.

The ARRL's Dave Sumner discussed the lack of transparency and the duplicity of the FCC, back in 2009 when Sumner pointed out the FCC's complete lack of transparency, as he quoted the BPL court, who said: "There can be no doubt the FCC deliberately witheld information that was contrary to its conclusions."

To say that broadcasters are skeptical that the "Tiger team" concept will work is an understatement. The DOE for a radio group said the field office closure plan "sickens me" and fears pirates will become even more of an issue to licensed broadcasters. Chairman Wheeler pledged to put more agents on the ground in Miami and New York specifically to combat pirates, however broadcasters remain skeptical of the plan. The consultants estimated that 108 personnel work in the field offices for a total of $12 million annually in wages and an additional $3 million in benefits. The 74 direction-finding vehicles consume some $90,000 to $115,000 each. Travis LeBlanc has stated that taking pirates off the air is like playing whac-a-mole. Put one down and another six pop up in the first one's place. He was talking about FM pirates, but he's right, and the same is true in amateur radio. Traditional enforcement doesn't work and Chief LeBlanc understands this.

One broadcast attorney deemed the "Tiger team" concept "crazy" and doubts there will be much of a travel budget in the new plan. "I have been reporting pirates in Boston and Providence for over 15 years, both as a independent listener, with standing, and as a professional contractor for stations, and as a FT chief engineer for stations. NOT ONCE have I ever seen the FCC ever acted on an interference complaint by a pirate radio station, despite repeated entreaties by myself and supporting claims by other engineers/listeners. One of the pirates in Boston not only operated for over a decade, but the guy RAN FOR MAYOR OF BOSTON. That's what it took before the FCC finally deigned to notice his illegal operation. Pirates laugh at the FCC's claims of spectrum enforcement."

By Aaron Read on 4/16/2015. Thanks Aaron, we couldn't have said it better ourselves.
Congressional Probe of FCC Continues
Our friends in Congress have cited an LA Times article on the harmful consequences of the FCC's net neutralization odor. As Commissioner Pai predicted, new Internet fees may be just around the corner, unless Congress can halt the madness. This session of Congress is to be heartily congratulated. In a very short time, they've done more to bring about an end to fraud, waste, and abuse at the FCC, while simultaneously calling for fairness, openness, and transparency in that agency's Byzantine labrynth of confusing and contradictory regulations, not to mention their Machiavellian methods of arbitrary and capricious enforcement. Along with Congress, the FCC's Office of the Inspector General continues to investigate the Enforcement Bureau's documented abuse of the public trust in the recent FCC pornography scandal and the episodes of FCC employee's who steal time and falsify their time sheets, among other abuses. Congratulations to hardworking staff and all the new hires at the Office of the OIG.

Congressional Committee Chairmen recently requested information about FCC decision-making processes and documents, so the committee may better understand the commission's thinking about a number of issues. "As you are aware, we have longstanding concerns with the fairness, openness, and transparency of the commission's administrative and rulemaking processes, including issues related to its document management practices. We recently wrote to you seeking additional information concerning whether the commission is fulfilling its statutory responsibilities regarding transparent and open public processes," wrote the leaders. We can only hope that the Committee will continue to demand answers and broad, lasting changes at the FCC.

Subcommittee(s) on Communications and Technology and Oversight and Investigations Question FCC on Data

Our representatives in two House Subcommittees are still probing the FCC in ways likely to make upper management uncomfortable. They filed a warning shot on March 27th, 2015, when they asked FCC Chairman Tom Wheeler about the plan to move the FCC's servers to West Virginia ahead of the FCC's general move out of the Portals II when their lease is up in Washington, D.C. later this year. According to our sources, the Subcommittee(s) have a sneaking suspicion some FCC servers may end up "missing" or "broken" in the way other servers at other agencies have "mysteriously" crashed and disappeared, and otherwise become unavailable for Congressional and Judicial scrutiny. Remember the expansion of the FCC's Office of the Inspector General? That wasn't designed to keep track of FCC outsiders, but rather those FCC employees who have made decisions that are less than open, transparent, and fair. The Subcommittees don't seem to trust the people running the FCC. Imagine that? Congress is moving in the right direction, but they haven't gone far enough, according to Peter Huber, who says the FCC is much too entrenched and much too corrupt to repair. Huber says (figuratively) it's time to burn it down and begin again. The Committee members have demanded answers within the next 5 days.

Copyright CENTER FOR MEDIA STUDIES 2006-2015